About Me- Kailua Hawaii Pet Photographer Bonnie Grower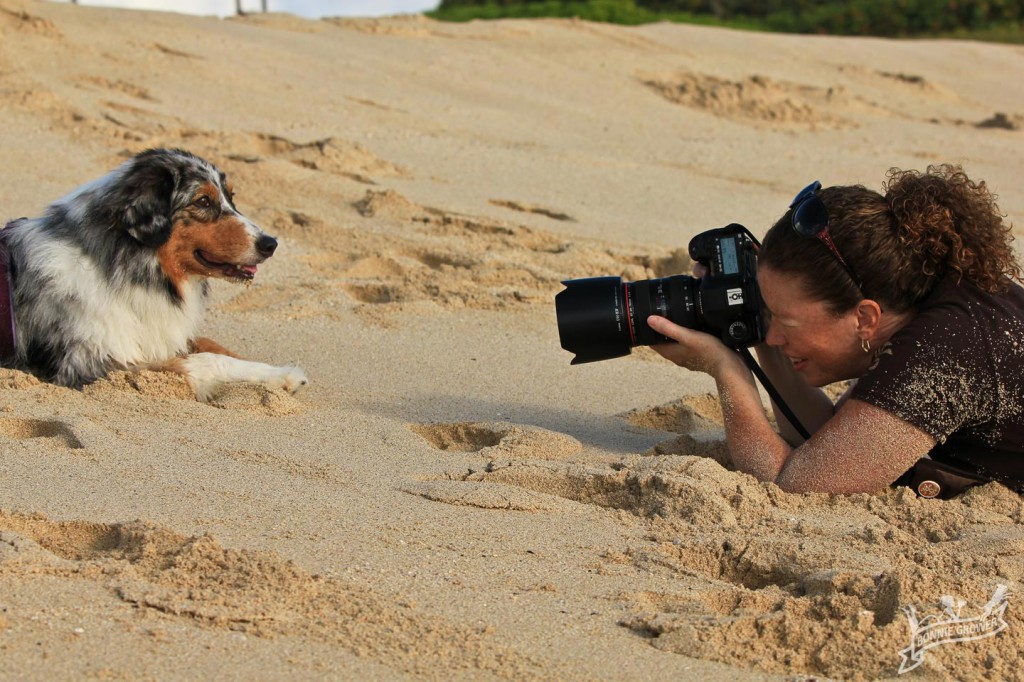 A perfect day for me will always include cold noses and wet sloppy kisses!
Hi! Thanks for taking a second to get to know me.
I'm Bonnie Grower – Kailua Hawaii pet photographer, animal lover and military spouse, among other things.
My love for animals goes back as far as I can remember. Growing up, I was never one to play with dolls, but always had (what seemed like) a veritable zoo of stuffed animals.  At night I would make my Dad kiss each and every one of them goodnight, by name. He always pretended he couldn't remember each of their names, but to this day, he still remembers those "good-nights," and every animal's names!
It used to be my dream to own a zoo, but the reality and perspective of adulthood put that dream to rest. Besides, my husband simply refuses to share the bed with any animals larger than our dog!
In lieu of working with a zoo-full of animals, I chose to work in the travel industry. Traveling and photographing beautiful places became an amazing part of my life, and visiting every zoo and wild animal park I could find was an incredible perk!
But my greatest joy always came when I returned home to an enthusiastic greeting from my dogs – everyone should always be greeted with such enthusiasm!
Years ago, I fell in love with a Navy man, and life changed dramatically. Suddenly, keeping my travel career became more and more difficult. Being part of a military community opened up so many new doors and opportunities, however, and over the course of our marriage, my passion for journalistic photography grew stronger. When there wasn't an airplane buzzing around, a ship with all the rails manned, families saying tearful goodbyes, or joyous reunions for me to photograph, I invariably had the camera pointed in my dogs' direction. Consequently, there are a LOT of photos of our animals: Meggie with her mouth wide open (she wasn't a huge fan of being on film), and Oliver (always the ham, and totally willing to show his wonderful personality to the lens). After long lives (one died at 17 and one at 18) their memories live on in my heart and in these amazing photographic memories. When we look at the images, we no longer think of the pain and sadness of their passing, but of their LIVES and the huge presence these two companions had (and will always have) in our lives.
"When we look at the photos, we're reminded of our dogs' lives

       and the huge presence they had (and will always have) in our own lives."
During photo sessions, I was able to capture their hysterical personalities (have you ever seen cattle dogs play tug-of-war with a tree?!), the pure joy of a favorite toy, and their general passion for life. Their pictures are timeless and always bring a smile, a memory, or a laugh each time we look at them. The photographs are treasured gifts, telling the story of a life that will always live in our hearts.
All too often I have heard people say they don't have any good pictures of their pet. This is why I decided to combine my passion for animals and photography into the art of pet photography. I want to celebrate your pet's personality using a fun, fresh, photojournalistic style.  Whether I capture the exuberant explorations of a young puppy or a quiet senior moment, I hope my portraits will bring a smile to your face, put joy in your heart, and preserve and honor the blessing that our four-legged family members bring to our lives!
I look forward to meeting you and your furry family members!
Wagging tails & wet kisses,
Bonnie
---
Book your session today!
Save
Save