Spotlight – Warrior Canine Connection's Nick
First off, thanks to all of my regular readers who have been clamoring for more on WCC's Honor Litter – I appreciate all the comments and encourage them. Keep them coming!  In the meantime, are you ready for another feature of Warrior Canine Connection's Honor Litter?  Today, we shine the spotlight on WCC's Nick and his Puppy Parents (family).
As many of you know, Nick is named for Nick Null, a proud member of a Navy Seal team who was killed when his helicopter was shot down in Afghanistan.  So, it is fitting that Nick (WCC's Nick) was placed in the loving care of a family with a rich connection to the military.  It always amazes me to see the connections, the links, the small ways in which a larger circle forms.  It is indeed, in many ways, a very small world.  More about this connection later.
When I first started this project, one of my questions was "are the dogs allowed to be, well, dogs?  Do they have 'off duty' hours in which they can just play and be goofy, or are they always working?"  The answer is yes!  When their vest is on, they are working dogs, when the vest is off, they are dogs.  They still have to mind and follow the rules, but they are allowed to let their ears down, if you will, and have fun!!  So in this feature, I hope to do two things – introduce you to the amazing people who are raising Nick, and share with you some photos of Nick playing and being his puppy self.  This is a little bit of a blast from the past, as most of the pictures you will see here were taken a few months ago, when we had blankets of snow on the ground.  So pour yourself a cup of hot chocolate and settle in 🙂

Meet Nick's Puppy Parents, Monnica and Dick.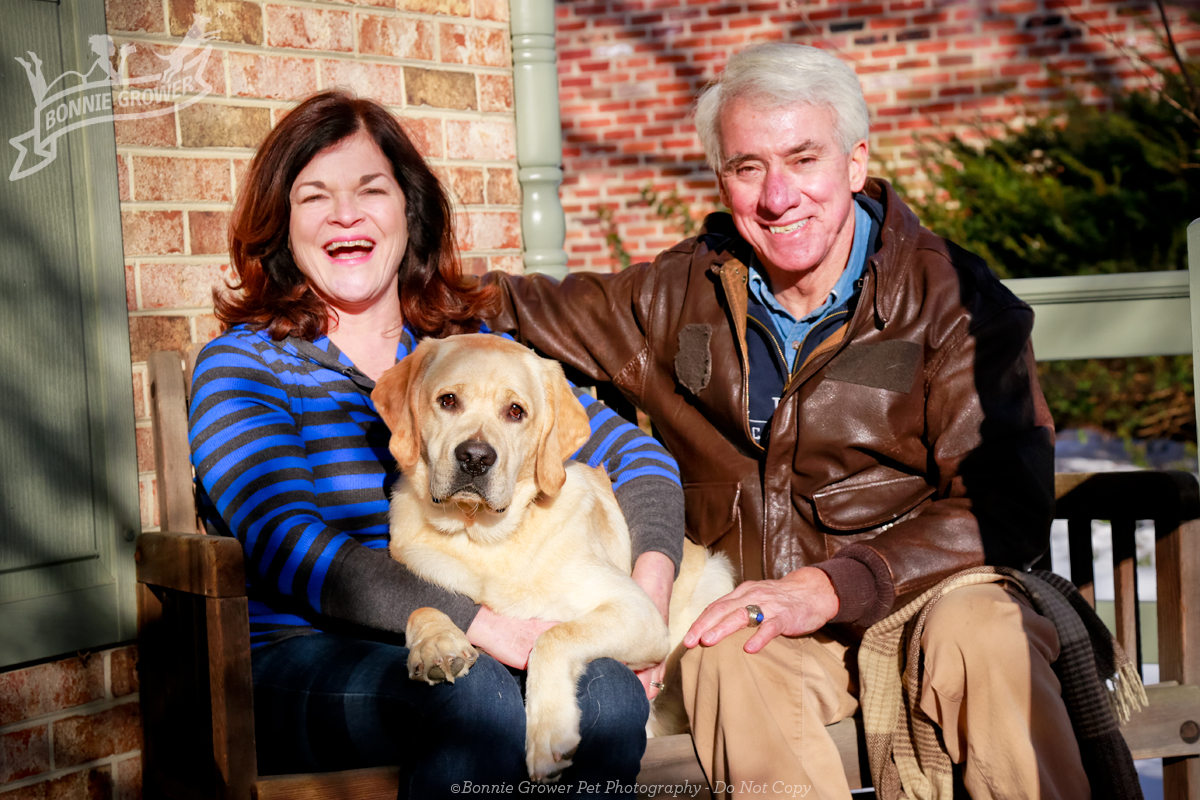 Monnica is not only the daughter of a US Air Force Colonel (and C-130 pilot), but she is also an extraordinary military wife.  Personally, I don't think the role of military spouse can ever be underestimated.  Having a strong, independent, and fiercely loyal spouse holding down the fort on the home front enables our men and women in uniform to deploy and do what needs to be done, without worrying about what they will come home to.  Most military spouses weren't born into a military family, and therefore have no clue what to expect and how to deal with the unexpected.  That's why women like Monnica are precious gems. Without their experience and council, many new military spouses would be lost and cave under the pressure.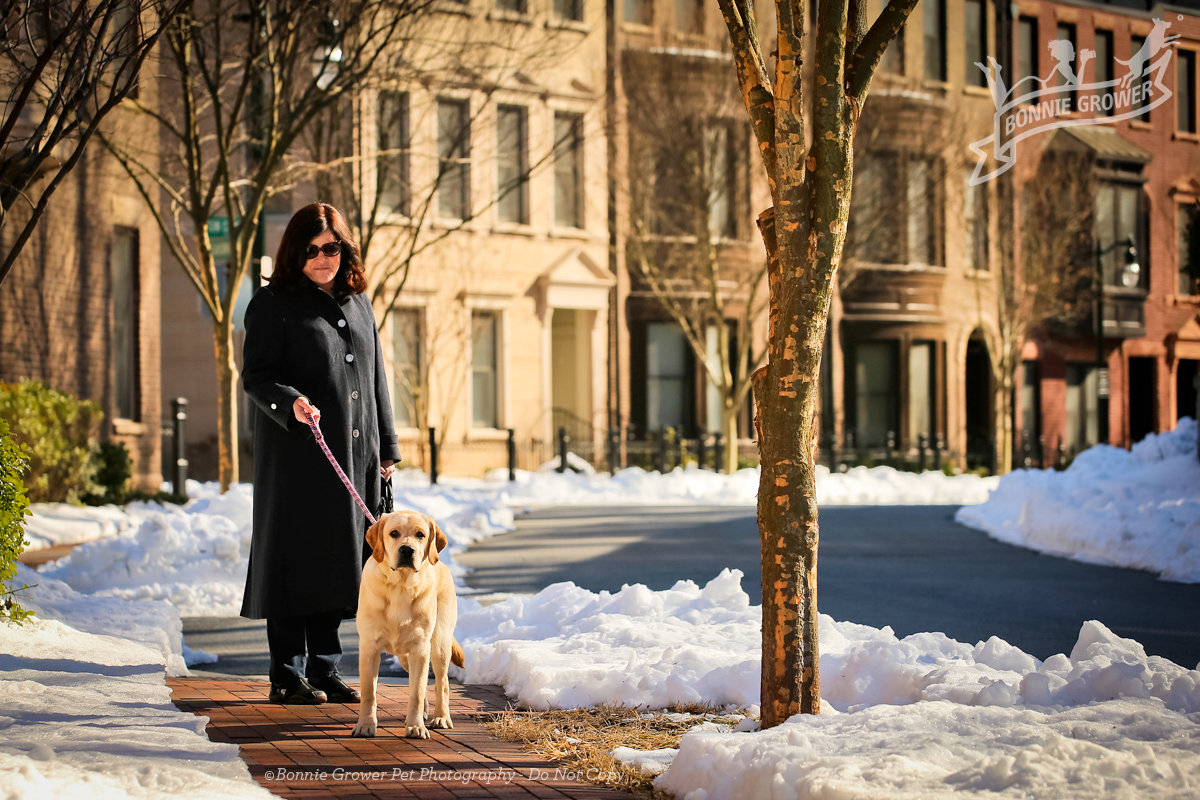 Her husband Dick, is also a retired USAF Colonel, a graduate of the US Air Force Academy and a C-130 pilot.  He is a veteran of the Vietnam war and served our country for over 30 years.  As an interesting aside, Dick's father and three uncles were all West Point graduates, and World War II veterans.  Can you imagine their mother, having all four of her sons in WWII??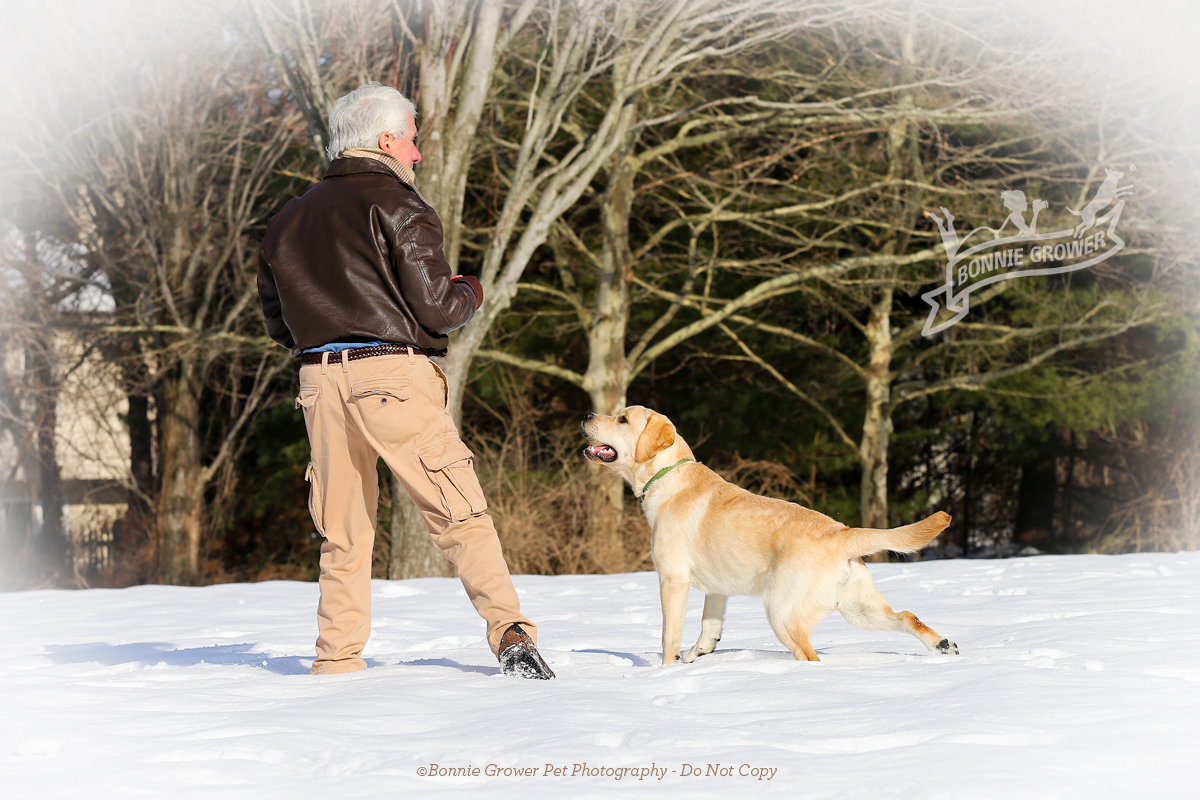 Carrying on the family tradition, Monnica and Dick's children pretty much have all the branches of service covered!  Their daughter, Maureen, is a Family Readiness Officer for a Marine helicopter group, and her husband is a Captain in the Marine Corps and graduate of the US Naval Academy. He flies CH-53 helicopters.  Their son, Roderic, is a West Point graduate, and is currently a Captain in the Army.  Their other son, Brian, is a US Air Force Academy graduate, and is a Captain in the Air Force, flying C-17 Globemasters.  Finally, their daughter Nicole serves her country well by being Nick's primary puppy sitter, and no doubt, as referee whenever the service academy ball games are on!!  Seriously, can you imagine being at their house for the Army-Navy or Army-Air Force or Navy-Air Force games?  [editor's note:  FYI, Navy pretty much always wins anyhow!  Haha!!]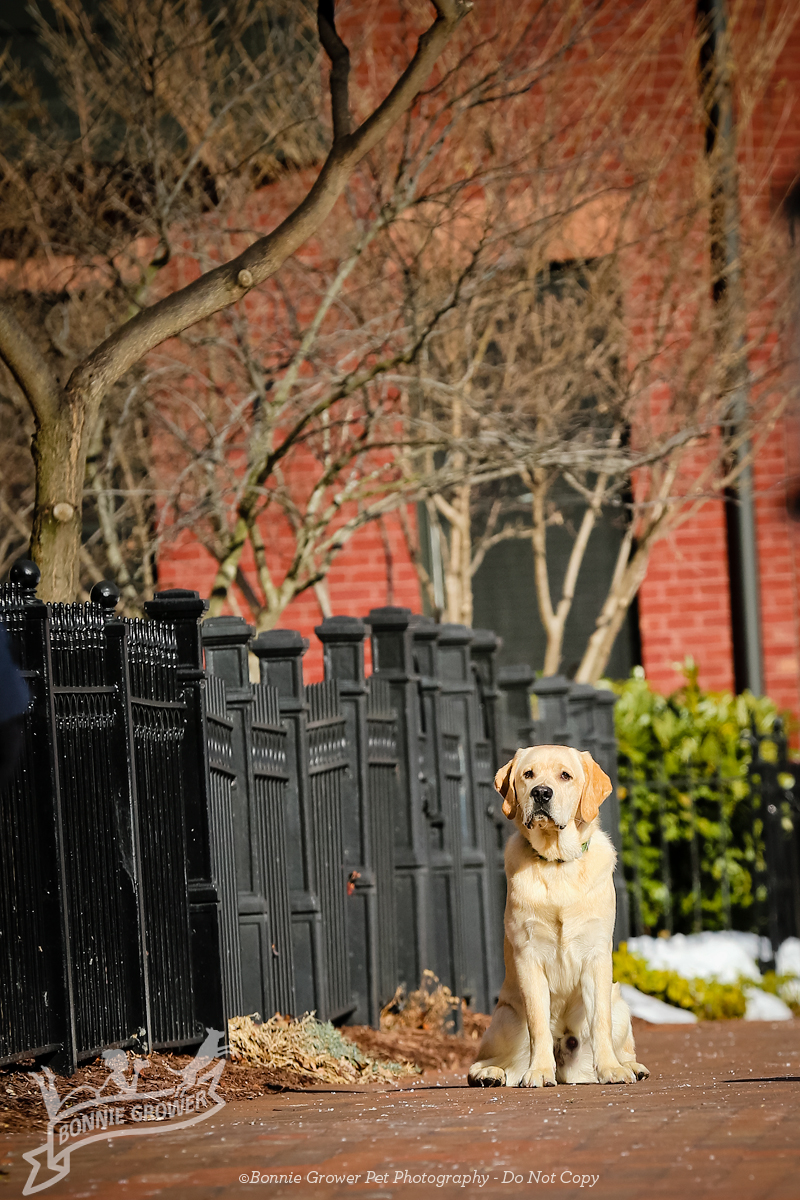 Anyway, remember when I mentioned connections and what a small world this really is?  What I am about to share with you is the unbelievable connection that Monnica and Dick's son, Roderic, or Rory as his friends and family call him, had to Nick Null.  As you may recall, Nick Null was in Afghanistan when their helicopter was shot down. (Read more about Nick Null here)  But at the very same time, Rory's platoon was in the same location.  I'll let Rory's words tell you the story…prepare to have the hair stand up on your arms…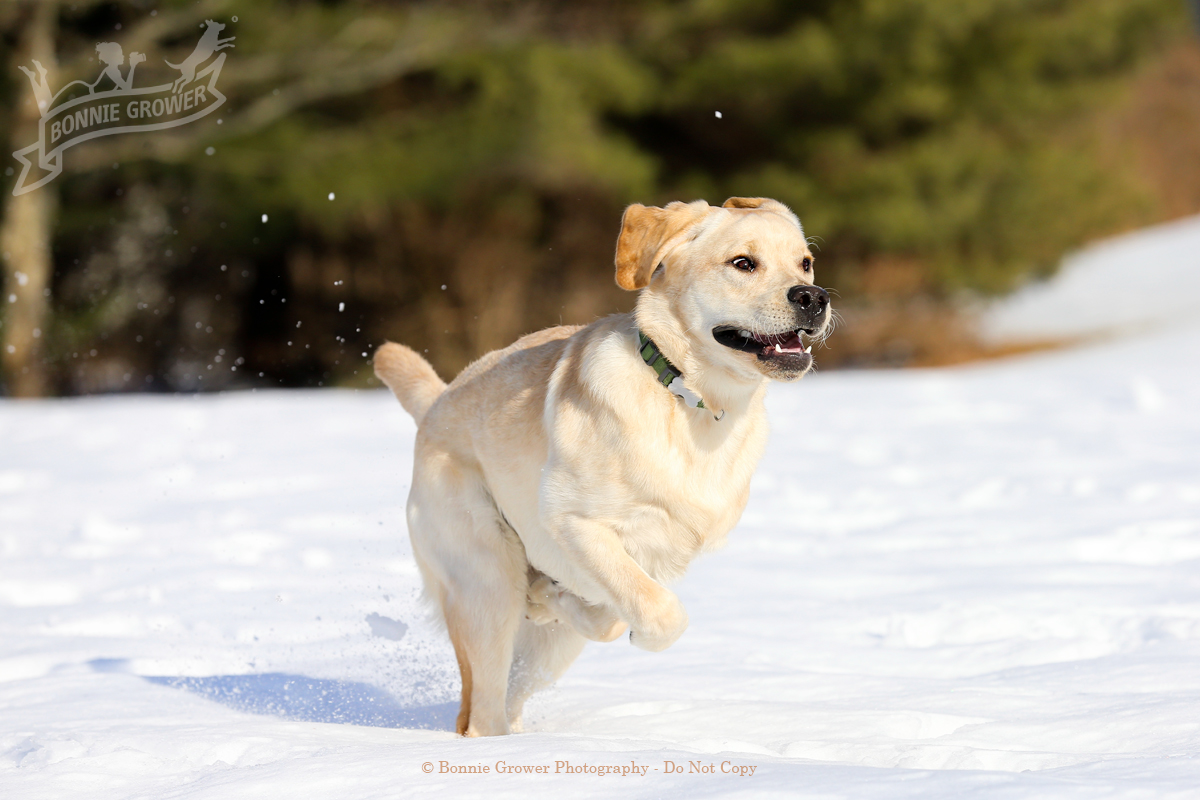 "We (2-30 Infantry) worked in the same area.  In the weeks prior, I had the privilege of working with Nick's element. They were all consummate professionals; the perfect mix between amiable giants and relentless perfectionists. You have no idea what you're getting into when you go over, so it is always an honor to work with people who love their job as much as the men of [Nick Null's final mission aboard] Extortion 17.  The night before, my platoon had been co-located with Nick Null's team to facilitate their operation.  I met with Jonas, the team leader.  He asked if I wanted to come on a mission that was going to happen the next night. I wanted to but that's not my call.  At the last minute we had to go do a separate mission that night.  As we departed, Nick's helicopter passed over our position headed to the Tangi Valley.  We heard the explosion. You don't think about these things when they happen, until the somber call comes over the net, "Fallen angel. I say again, fallen angel".  There was a pregnant pause over the radio as the call was made, "fallen angel." It was a phrase mentioned only as a contingency in missions prior.  We were turned around, packed our bags and headed west. My platoon walked 20 km over the next 24 hours.  We took contact three or four times but successfully set up a screen position to all the brave Rangers to collect our fallen brothers.
The chaos of the ensuing weeks consumed us all really. In the face of something like that, we all have something to offer because we all lost something. 
When I was able to come home and meet my new brother (WCC's Nick), it was surreal to think I had been reacquainted with a fellow warrior. Calm and reserved but evidently purpose filled, Nick fits the part of his namesake. I can't fathom the things that bring us all together but I can say that Nick has made a lasting impression on every single person he has come in contact with. For me, Nick is my brother, he is my friend and he is a reminder of an inspiration to constantly strive to be better than we thought we could be."
Rory, thank you so much for sharing your story with us!!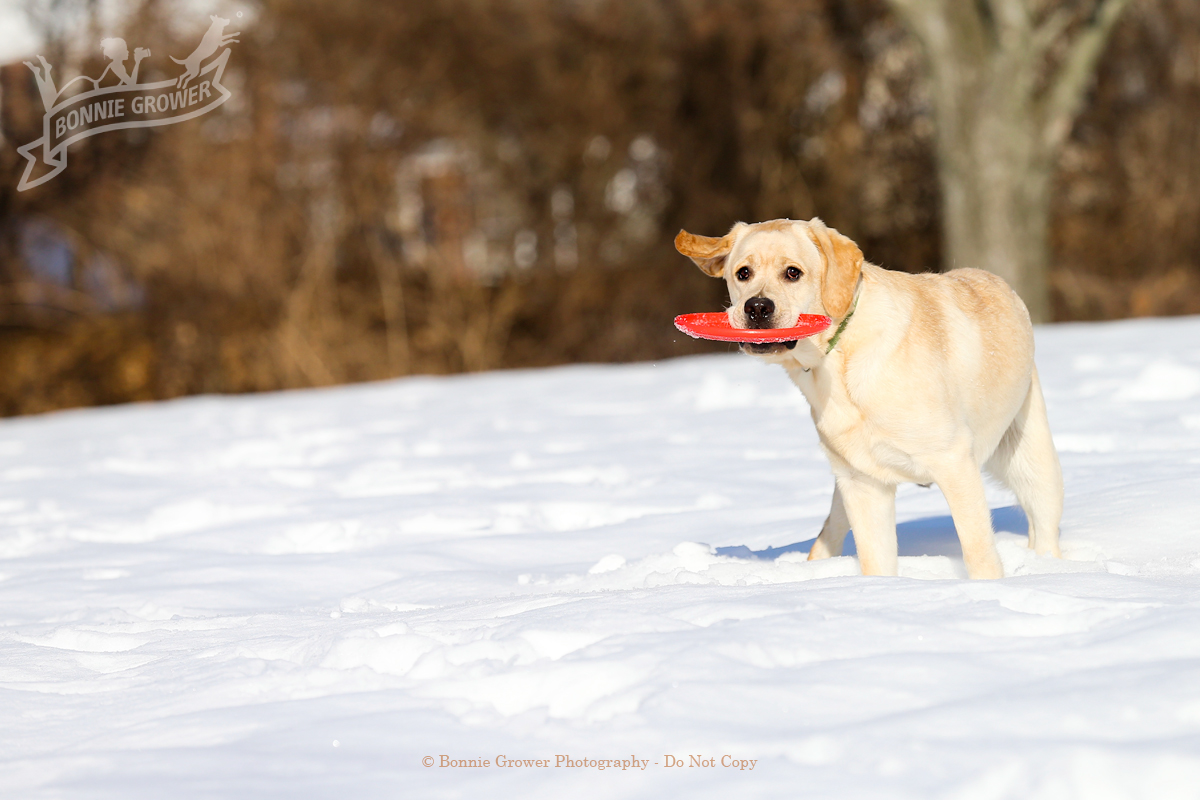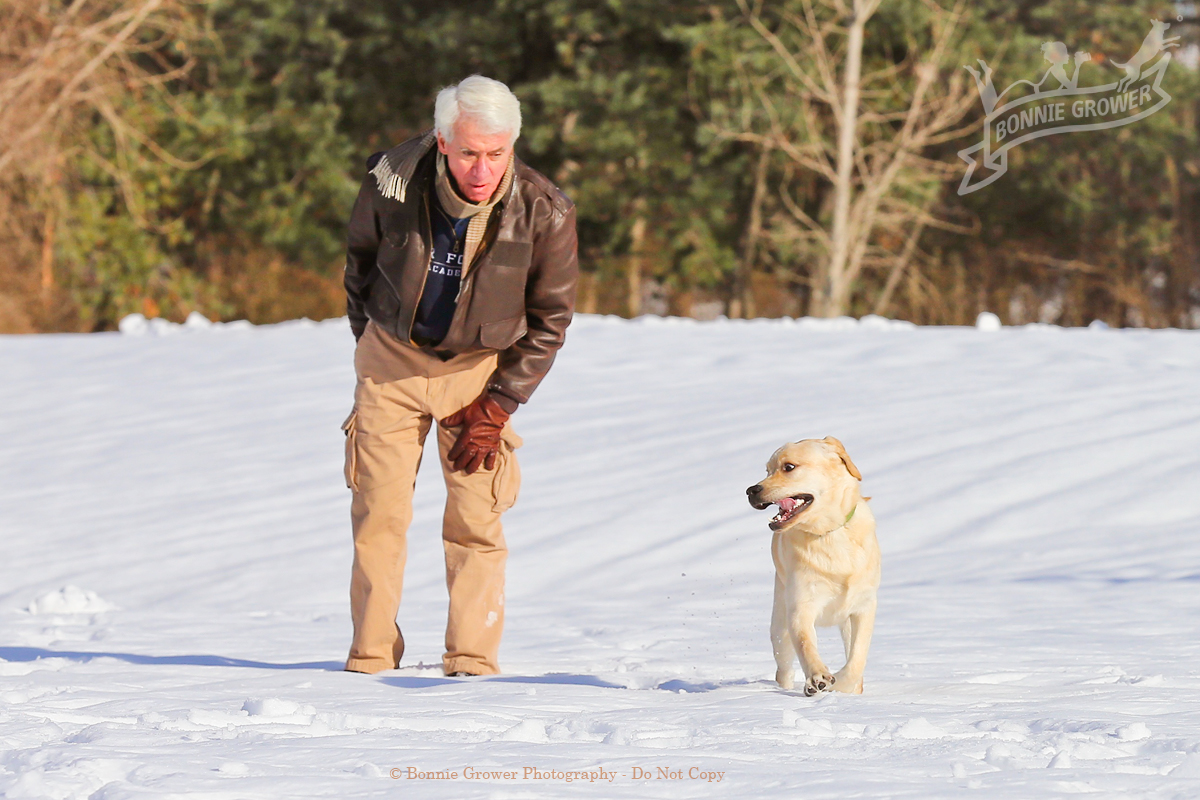 I asked Monnica and Dick the following questions:
What made you decide to become a Puppy Parent?  
"I take a therapy dog to WRNMMC [Walter Reed National Military Medical Center] thru the ARC [American Red Cross] and heard of WCC in 2011. Since then they have been on my radar. In 2013 I was moved to quit my job as a Veterinarian Assistant to do this. When it happened, when I was accepted as a Puppy Parent, it all fell into place so seamlessly I KNEW my instinct was right. This was meant to be." – Monnica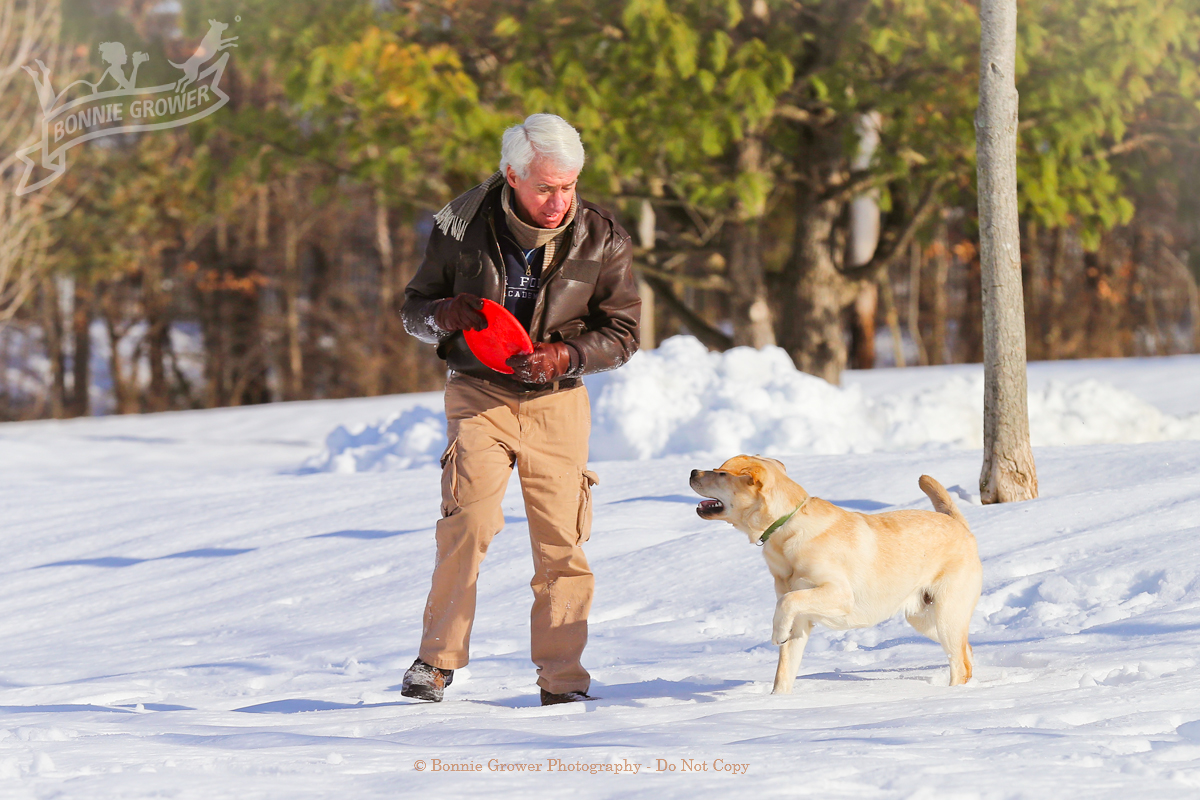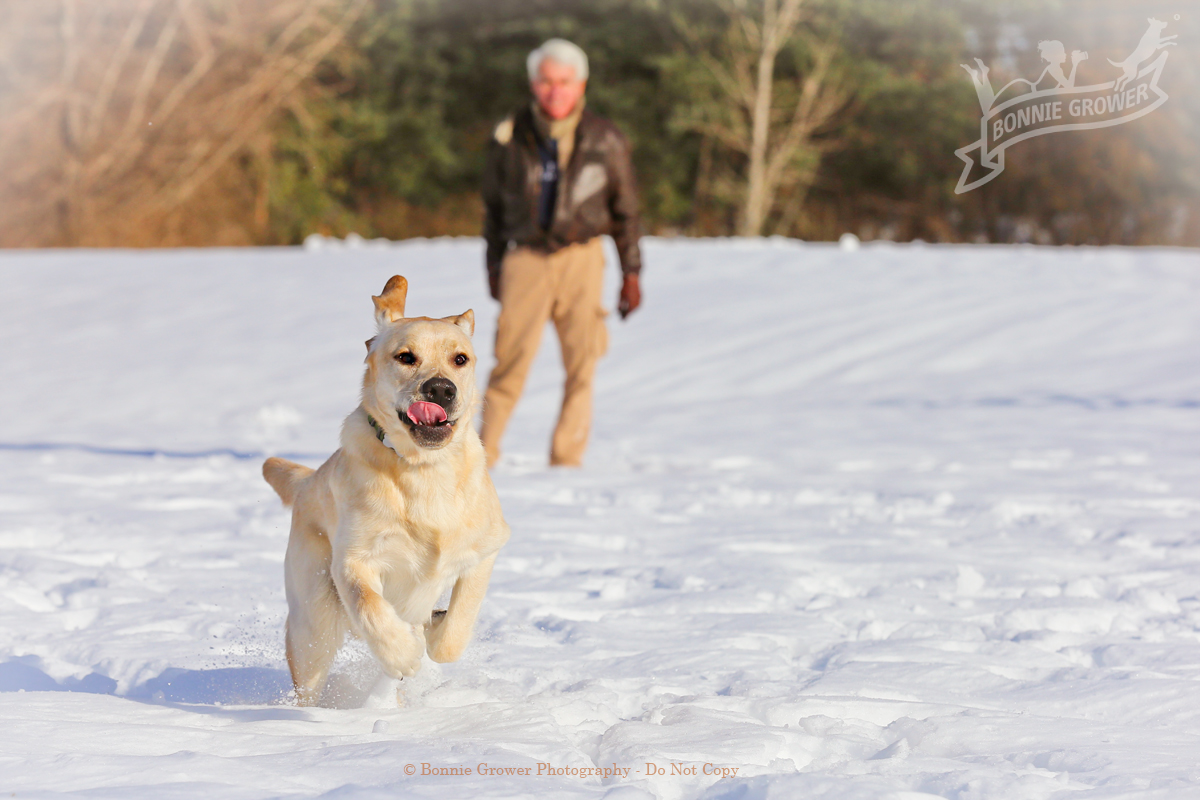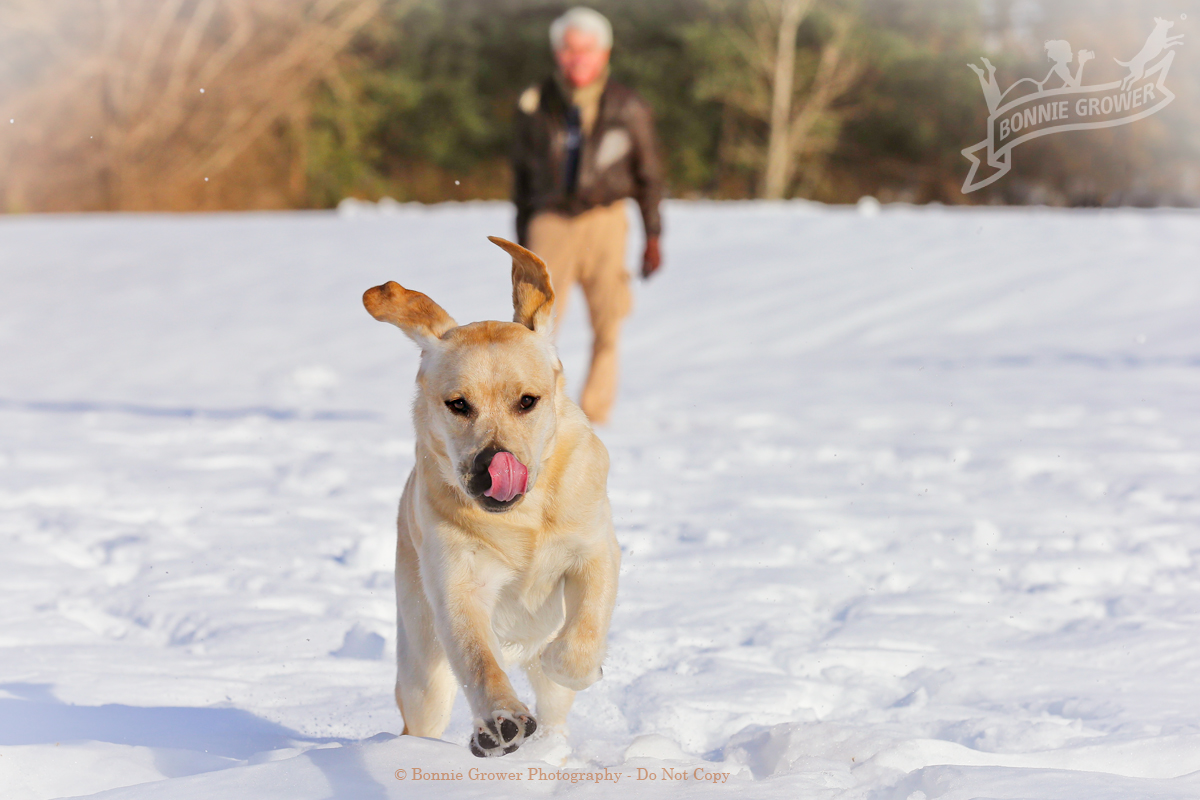 What has been the most unusual or unexpected experience you have had so far?
"For me it was the first time we went out to public places: I was unaccustomed to taking a dog into a mall or a restaurant so it was interesting to see people's reactions.  But even more impressive was the puppy's very blasé attitude and how calm he was (compared to how our other dogs would have reacted). – Dick
"I was struck by the amazement of people who see us.  They stop us, want to know all about Nick and WCC's mission.  We live in an area not populated by military so we are able to remind folks about the sacrifice a small number of Americans make each day." – Monnica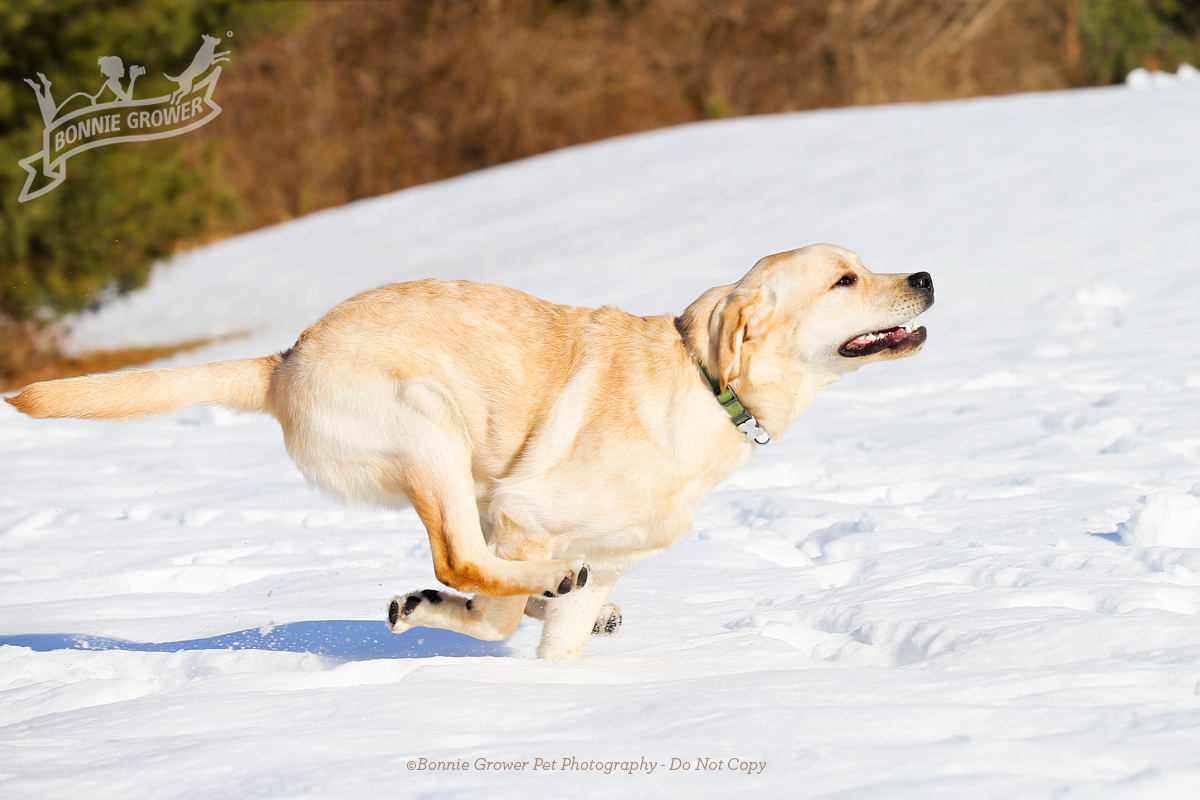 How has being a part of training a service dog affected you and your family?
"I'm involved in something my wife loves and it's brought us even closer to each other, but it is a huge time and planning commitment: you don't just accept invitations to dinners or outings or trips without figuring out the logistics of the puppy."  – Dick 
"Agreed.  We are in this together and work hard to make Nick's world a good one.  We can't just leave Nick with anyone and he can't interact with just any dog.  He could develop a fear that would prevent him from becoming a service dog.  That is always paramount in our minds." – Monnica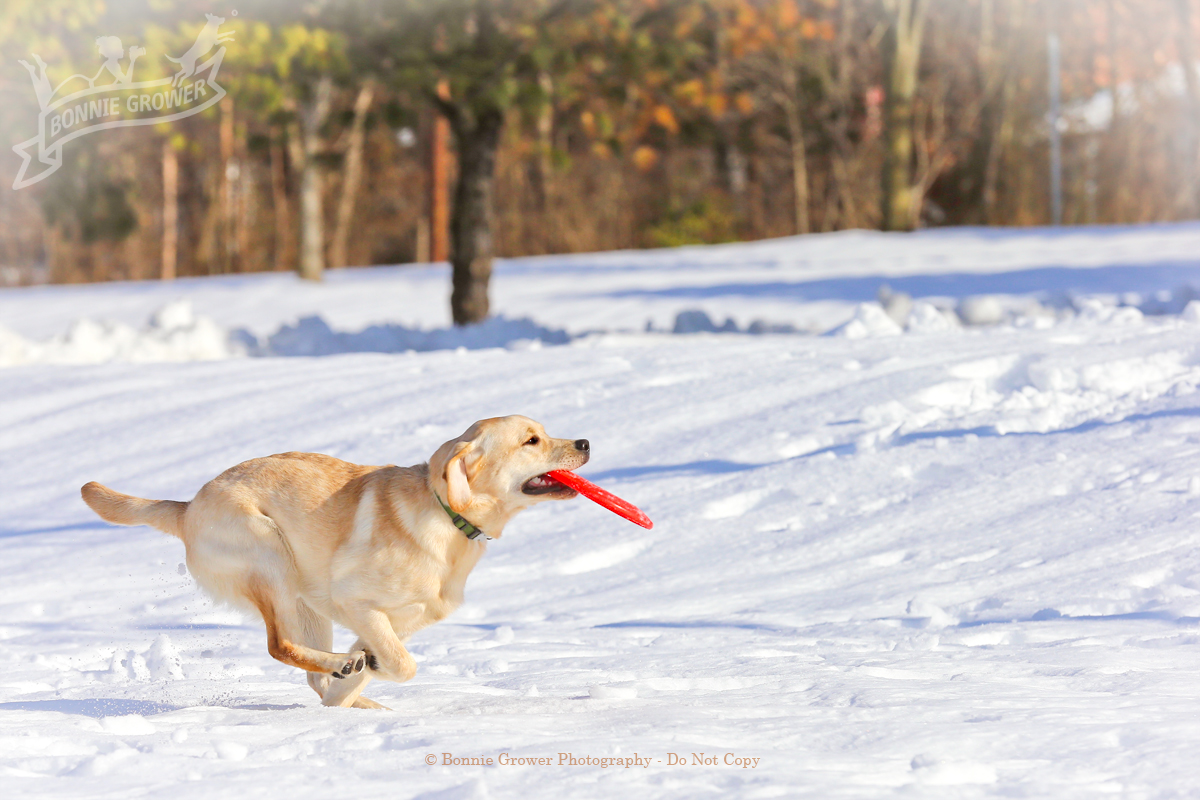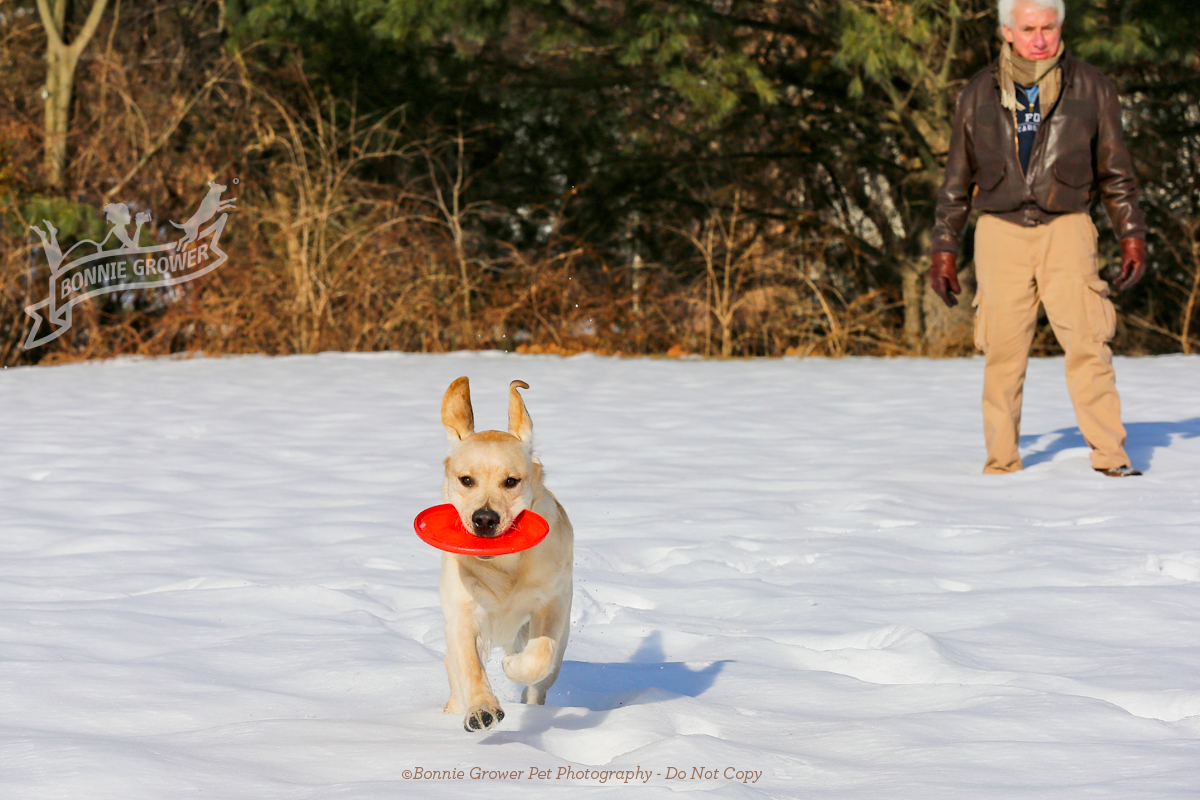 Have you learned anything that you didn't expect?
"You can work with a dog without being loud, aggressive or domineering.  I always felt I had to establish myself as the Lead Dog in the Pack with my previous dogs.  With the instructions of not "damaging" this puppy with bad guidance or habits, I had to walk on eggshells initially around him.  I eventually found that we could interact well just by being calm and normal.  I especially appreciate the help and tips from the WCC team." – Dick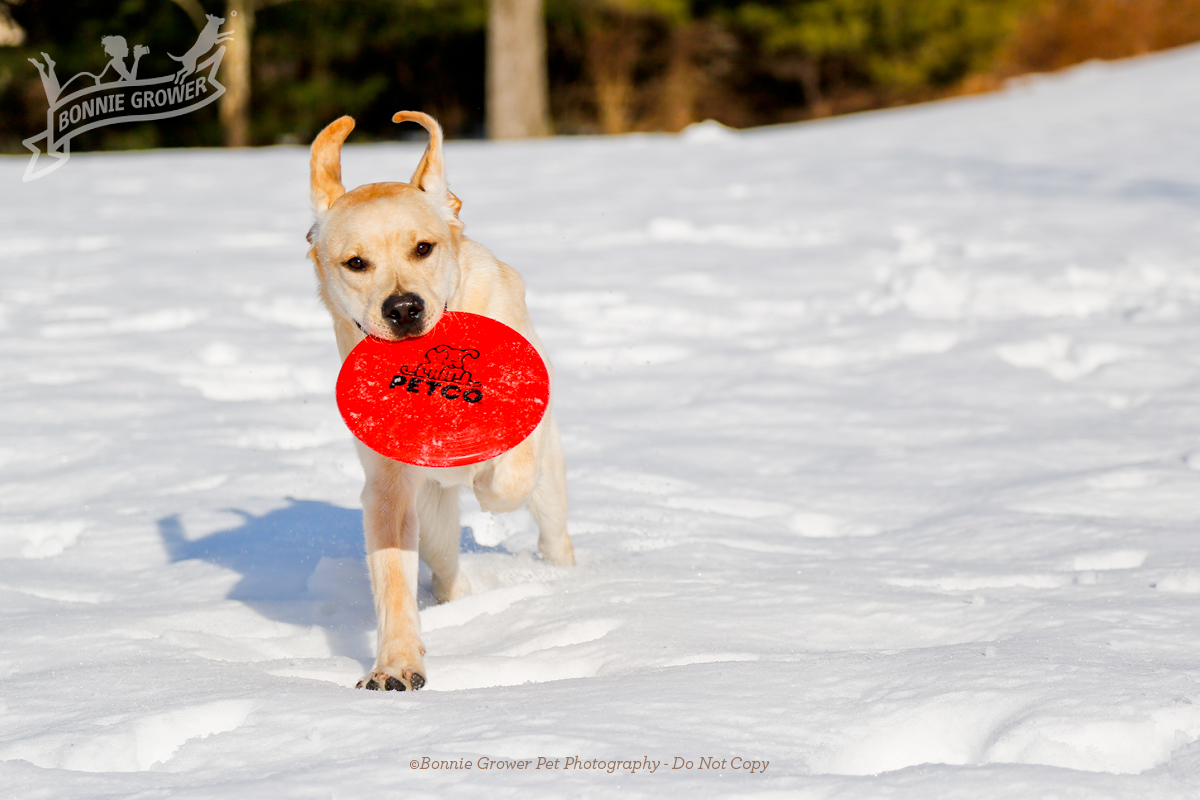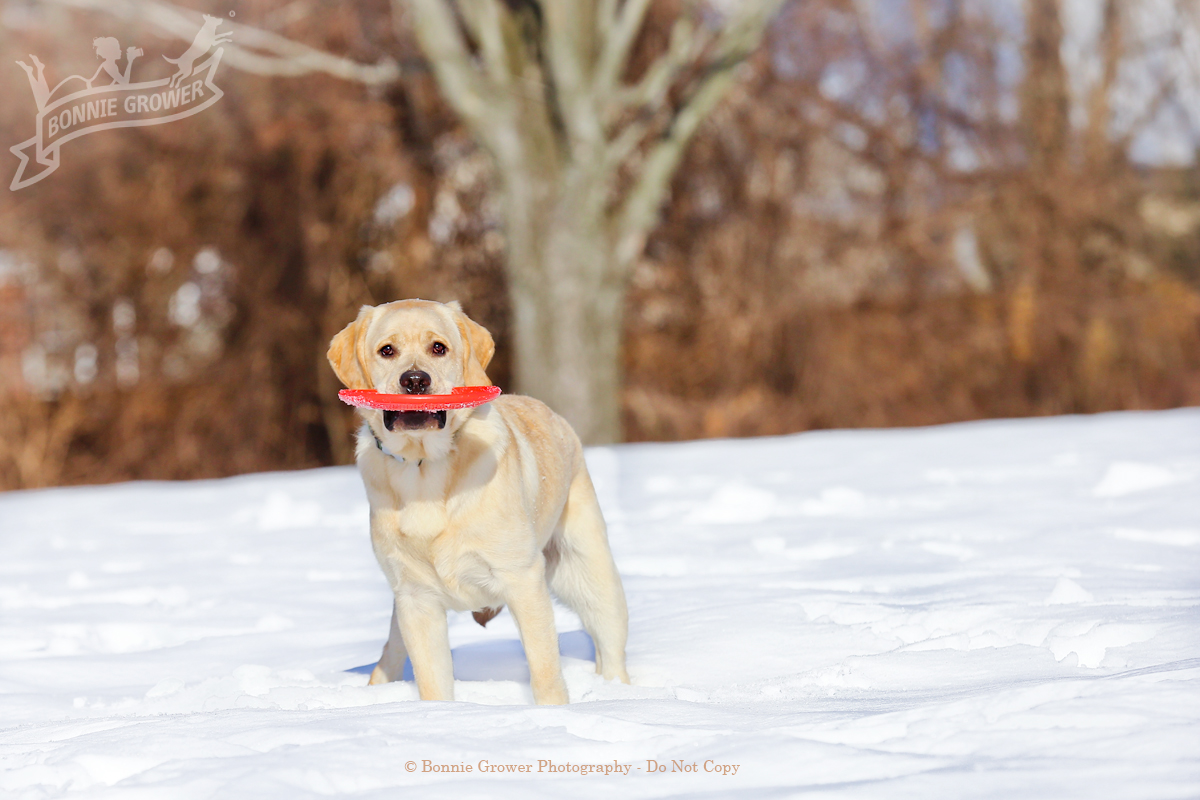 Do you have any advice about fostering a puppy for future Puppy Parents?
"Make sure you understand the time commitment: they want to play, they need exercise, they need attention and they need love.  Most of these are very easy to provide, but you have to start out committing to it very deliberately until it all becomes routine and second nature." – Dick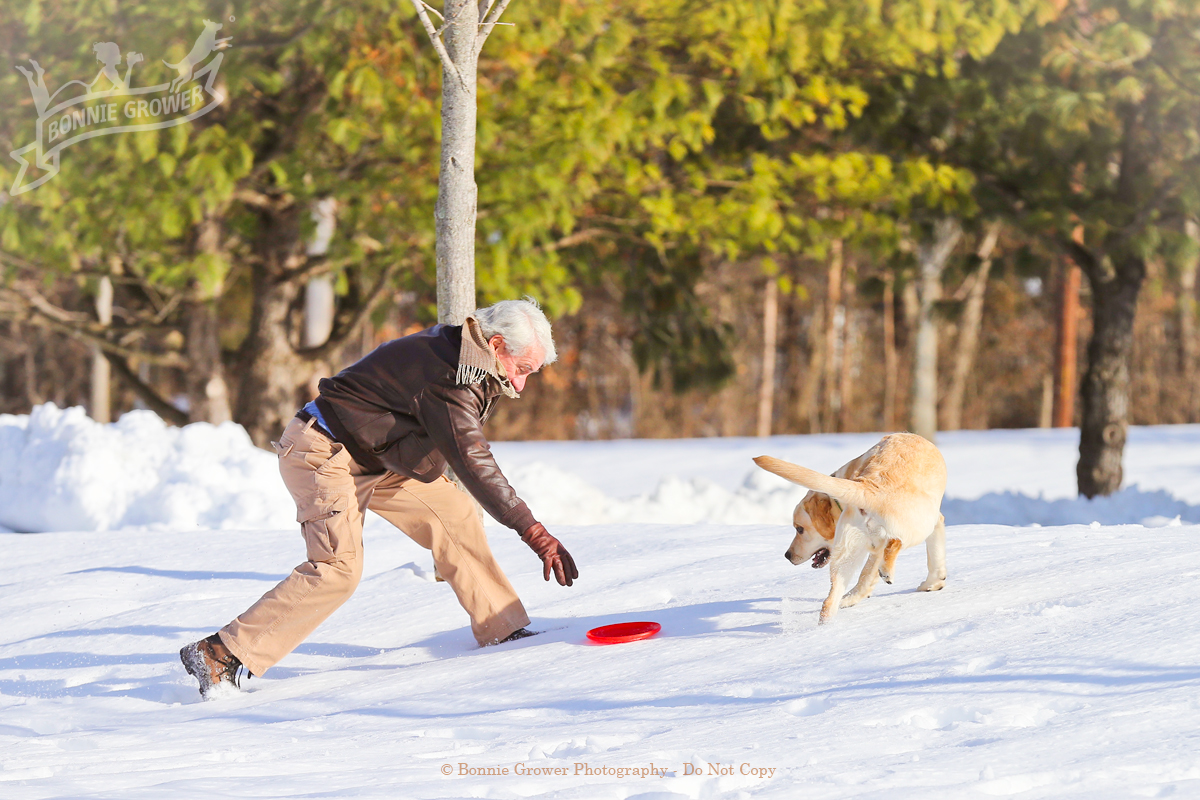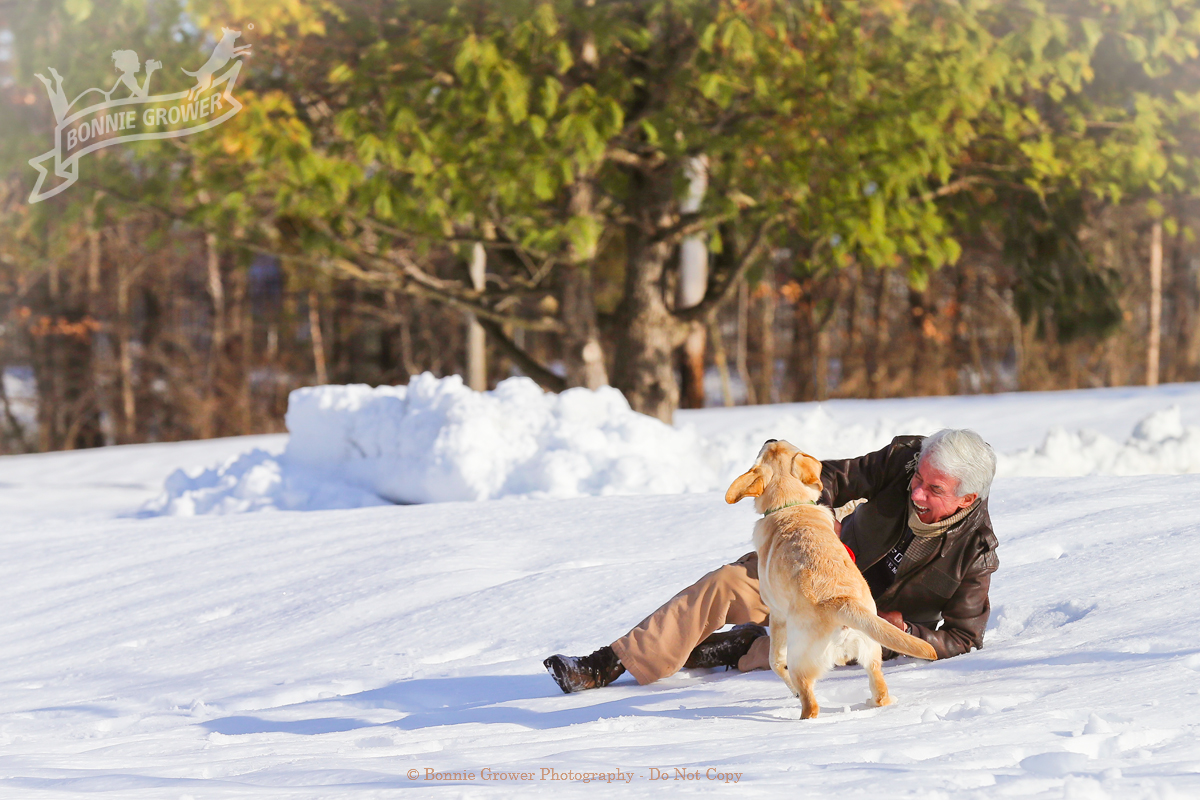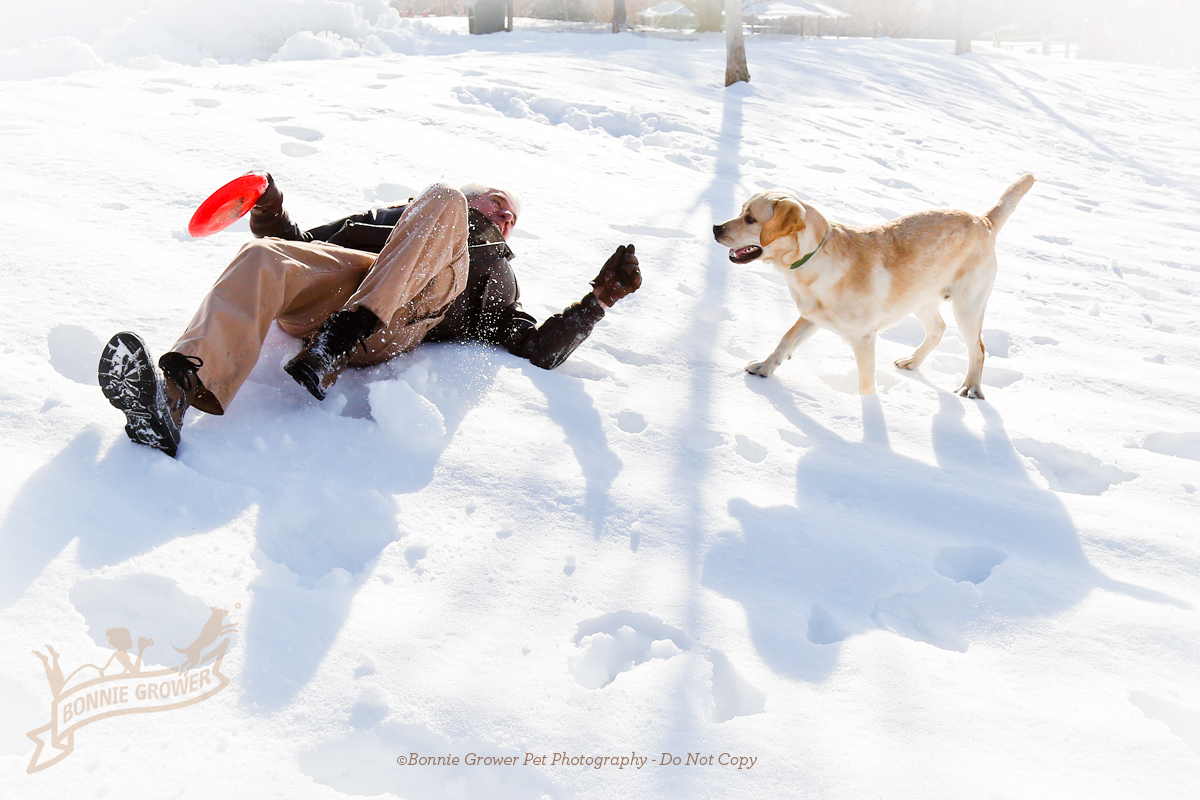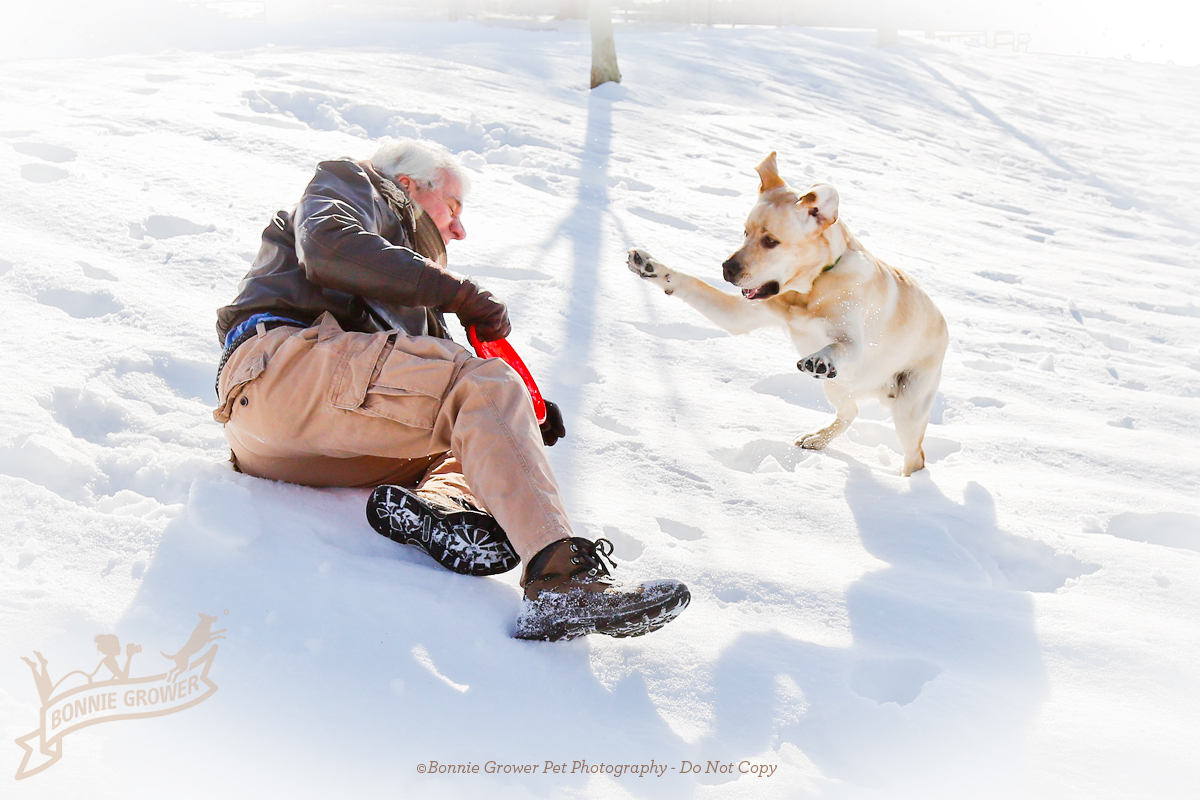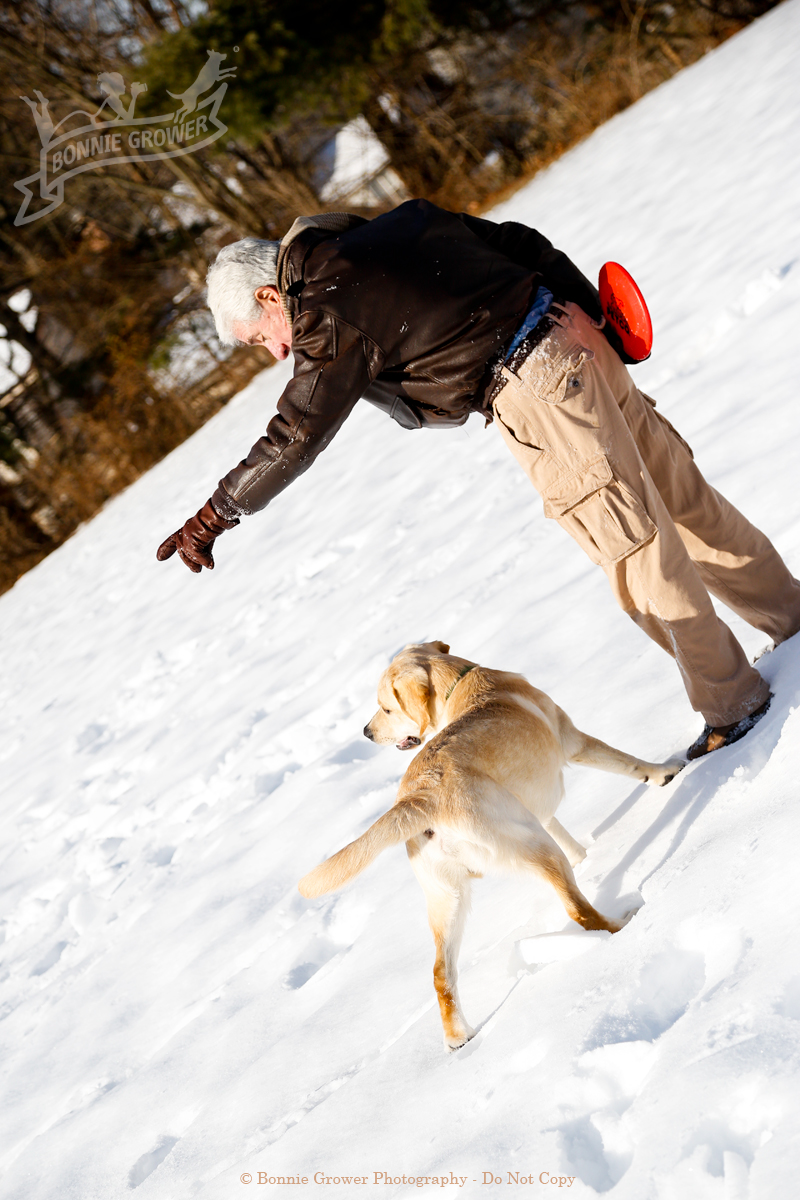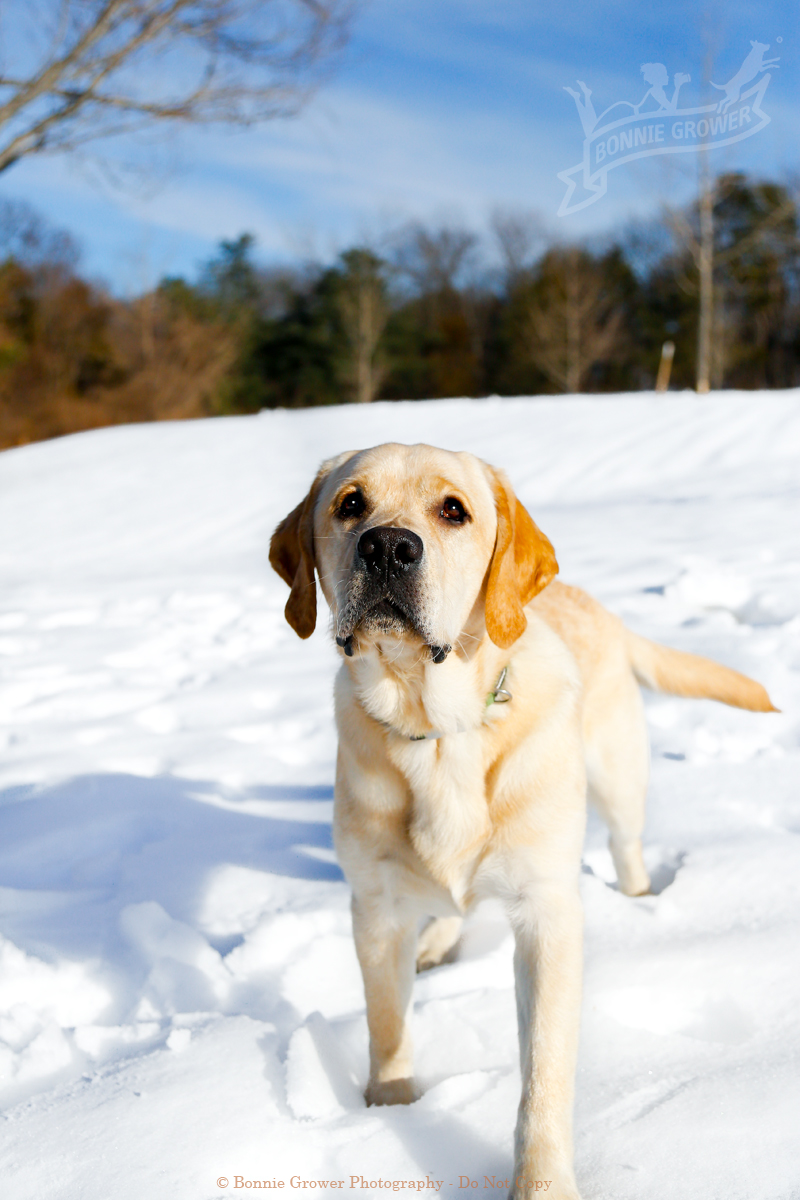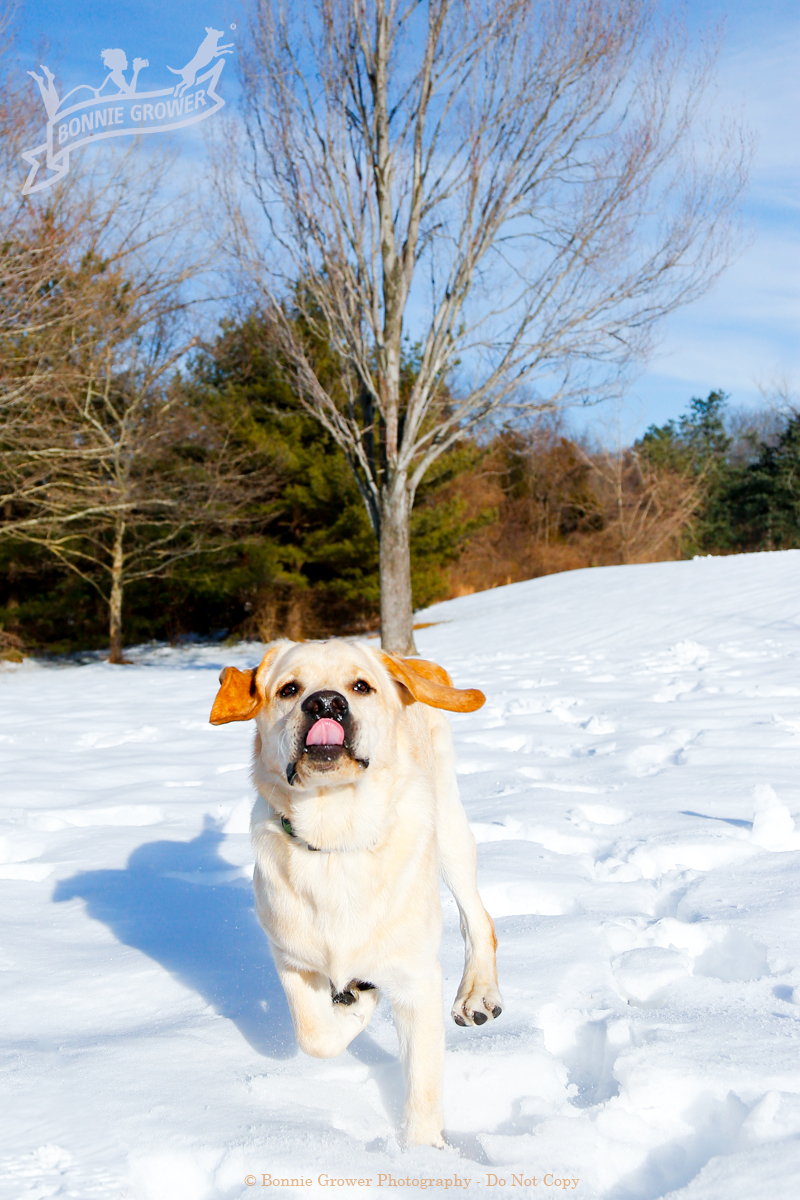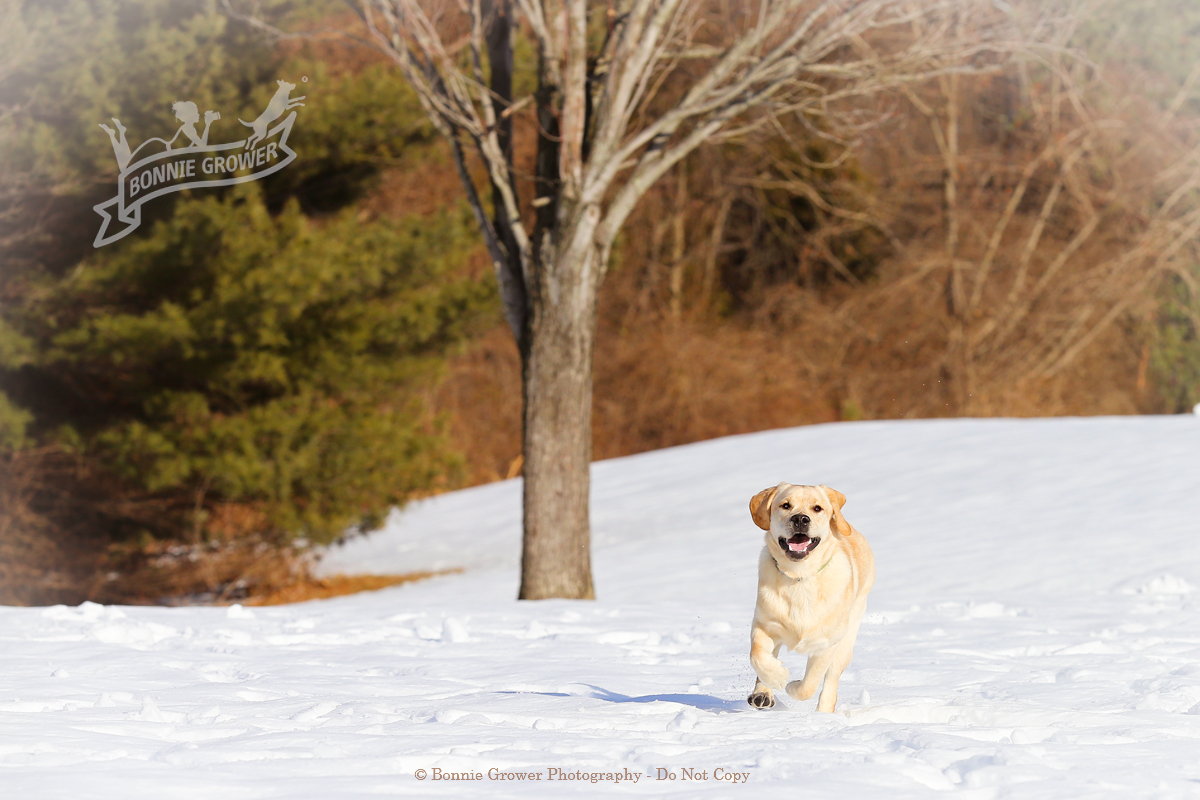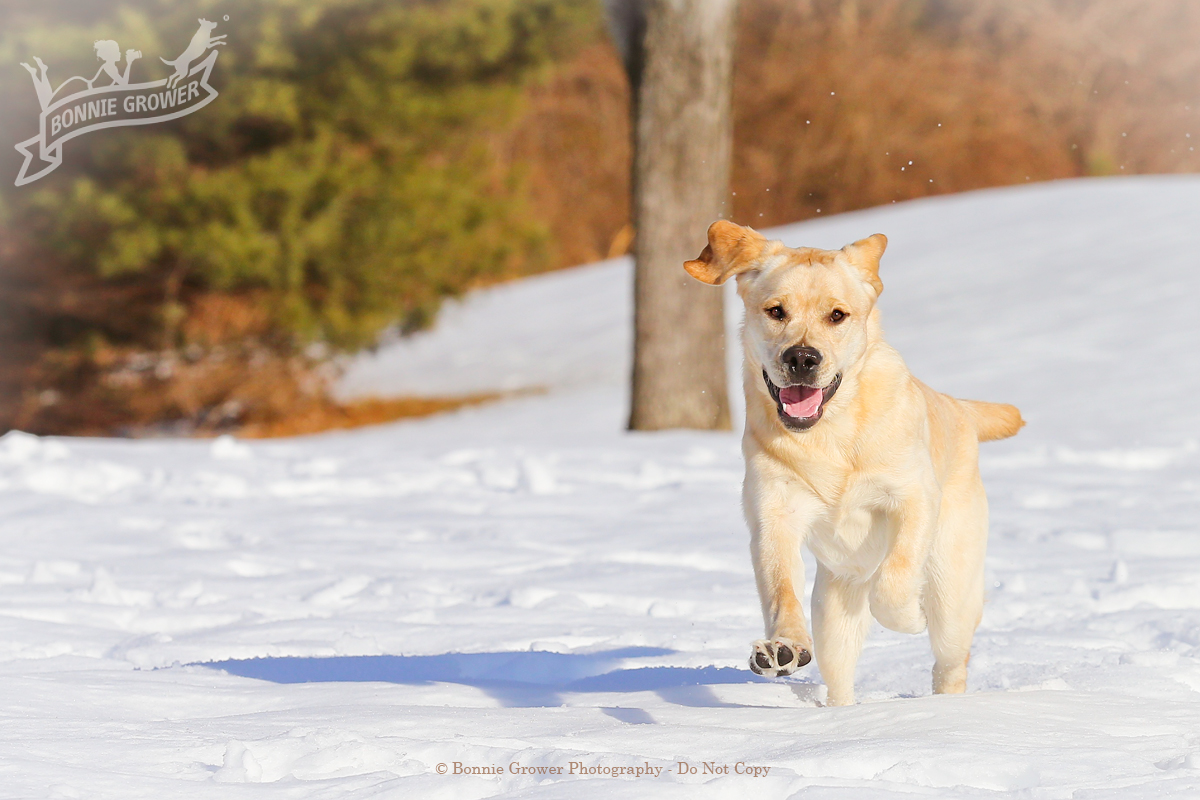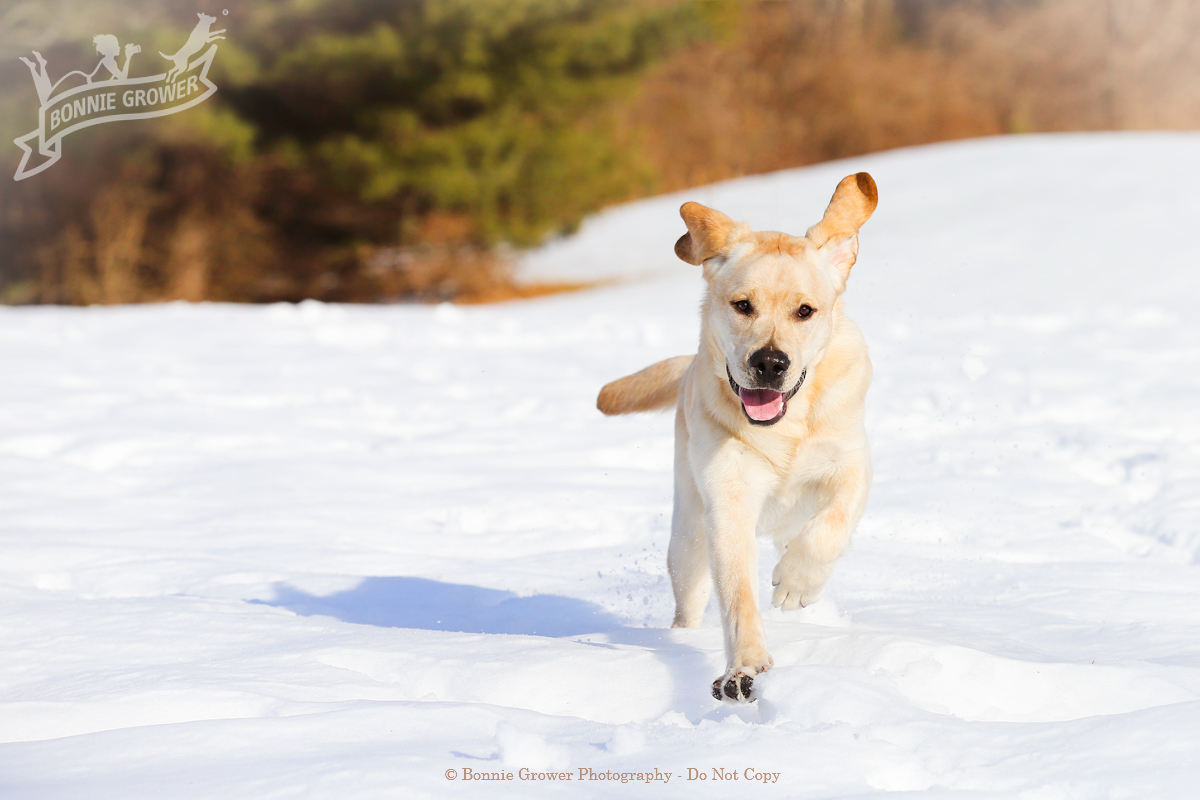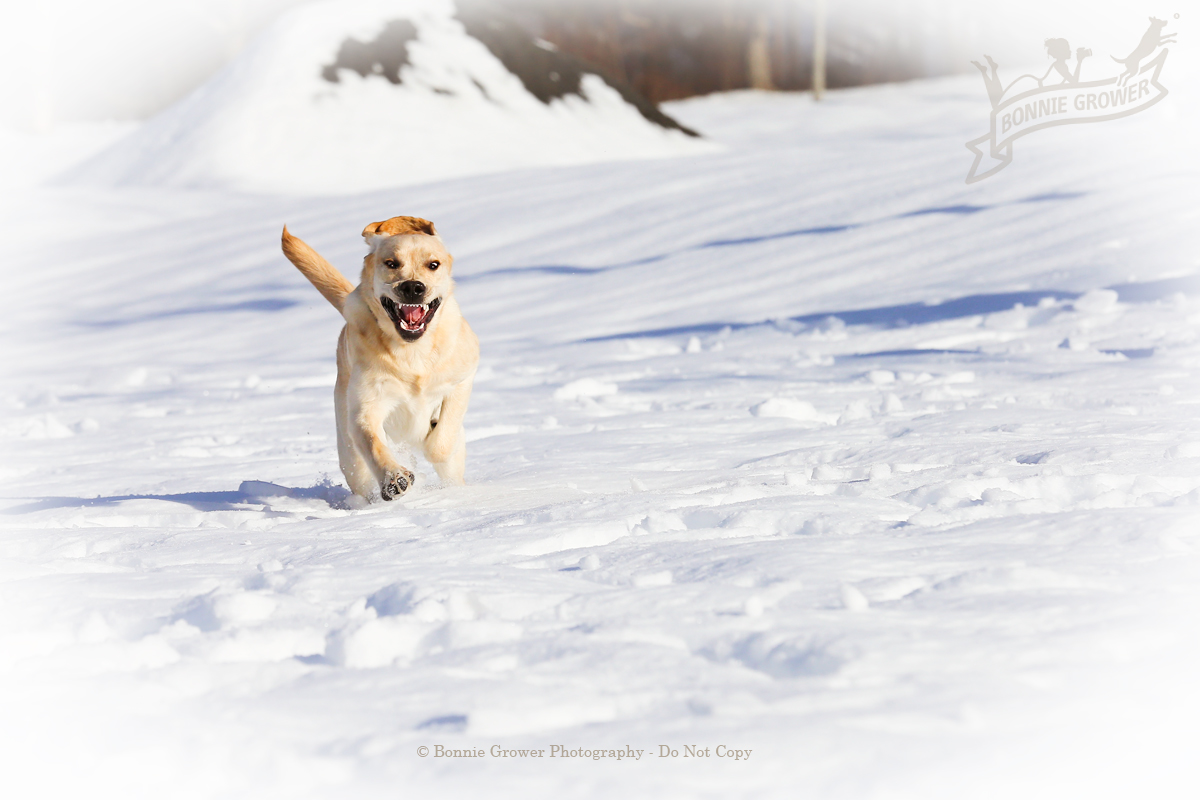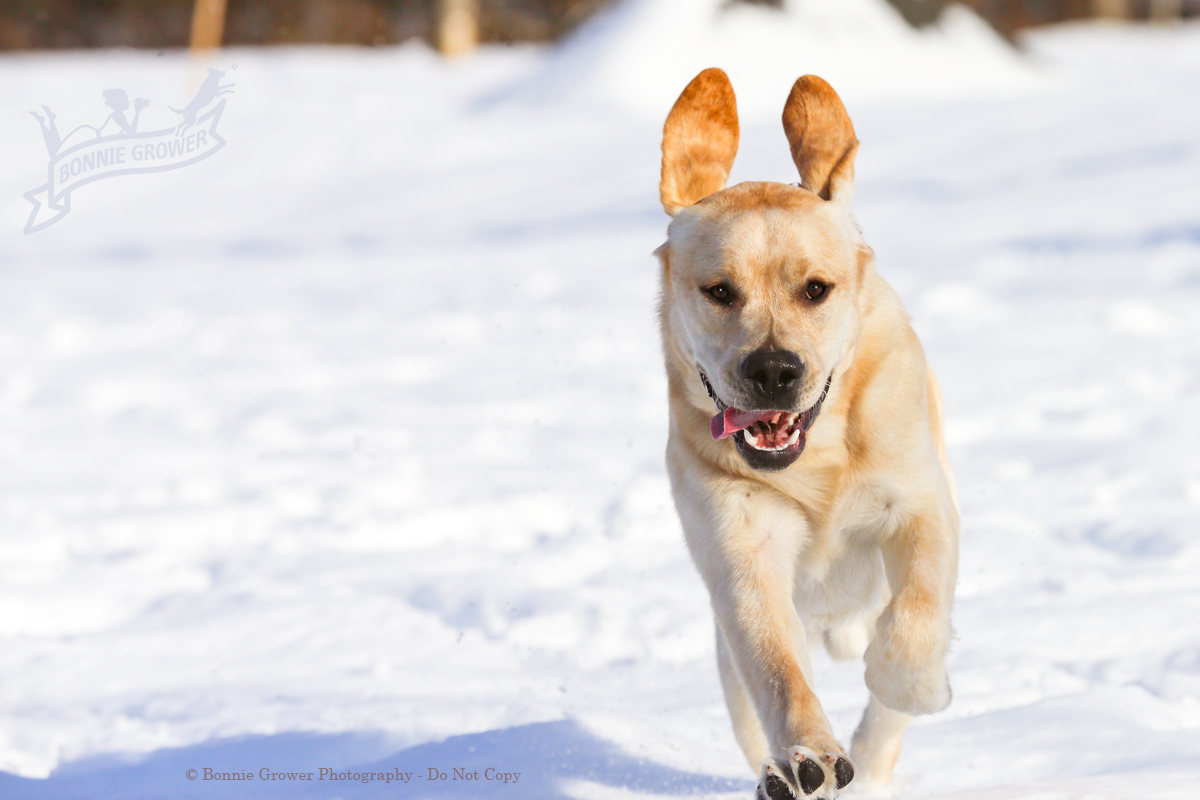 Well I think it is safe to say that Nick is living with a pretty amazing family and is loved so very much!  "I love how he is in the morning on weekends – these are the days we sleep in..sort of.  I get up to feed him at 7:00am (can't miss a meal!) then go back to bed.  He comes back up and patiently (sort of) waits for us to stir; meanwhile he plays with his squeaky toys and a new favorite – a stuff with a water bottle in it that crunches in a most satisfying way.  Still, we try not to stir and just ignore him.  But he's on to us and takes turns going to my side, then Dick's putting his front paws on us and snuffling in our face, followed by a few slurpy kisses.  He knows onto to jump on the bed unless invited.  Finally he gets invited and we have a nice snuggle before we begin our day.  I will most likely miss that most of all when it comes time to say goodbye." – Monnica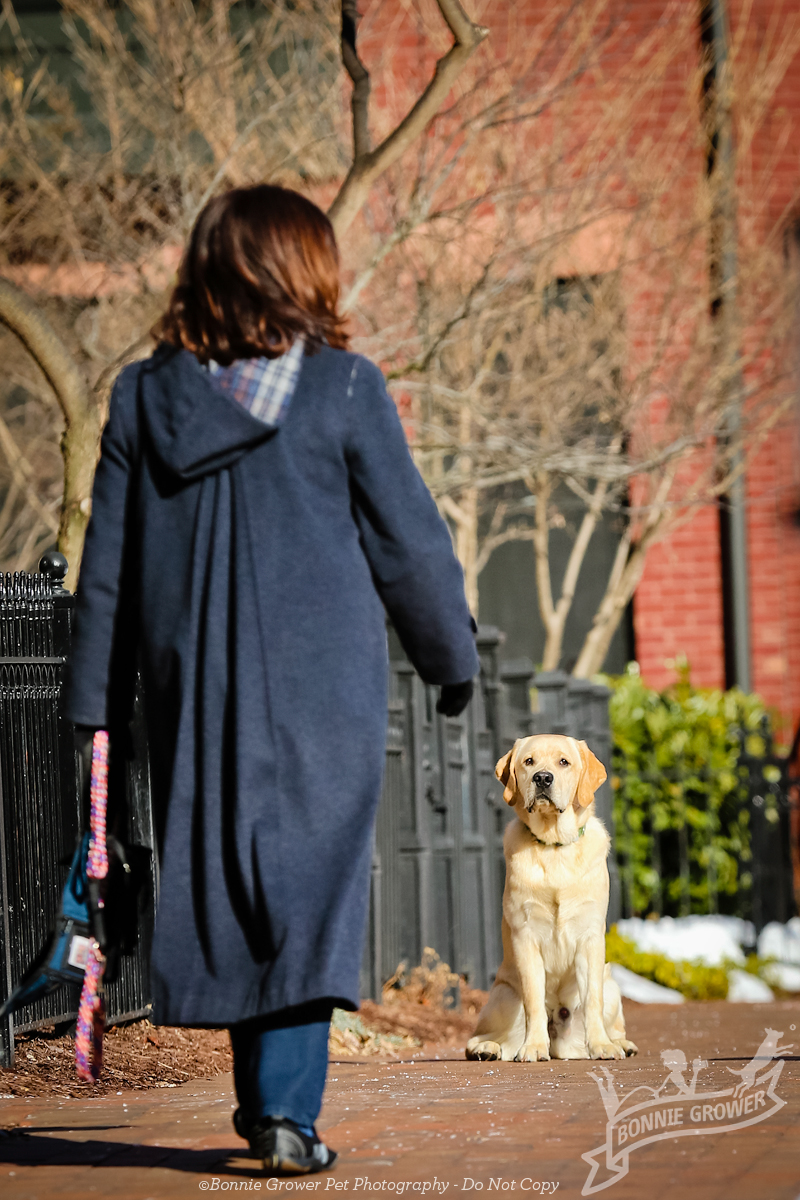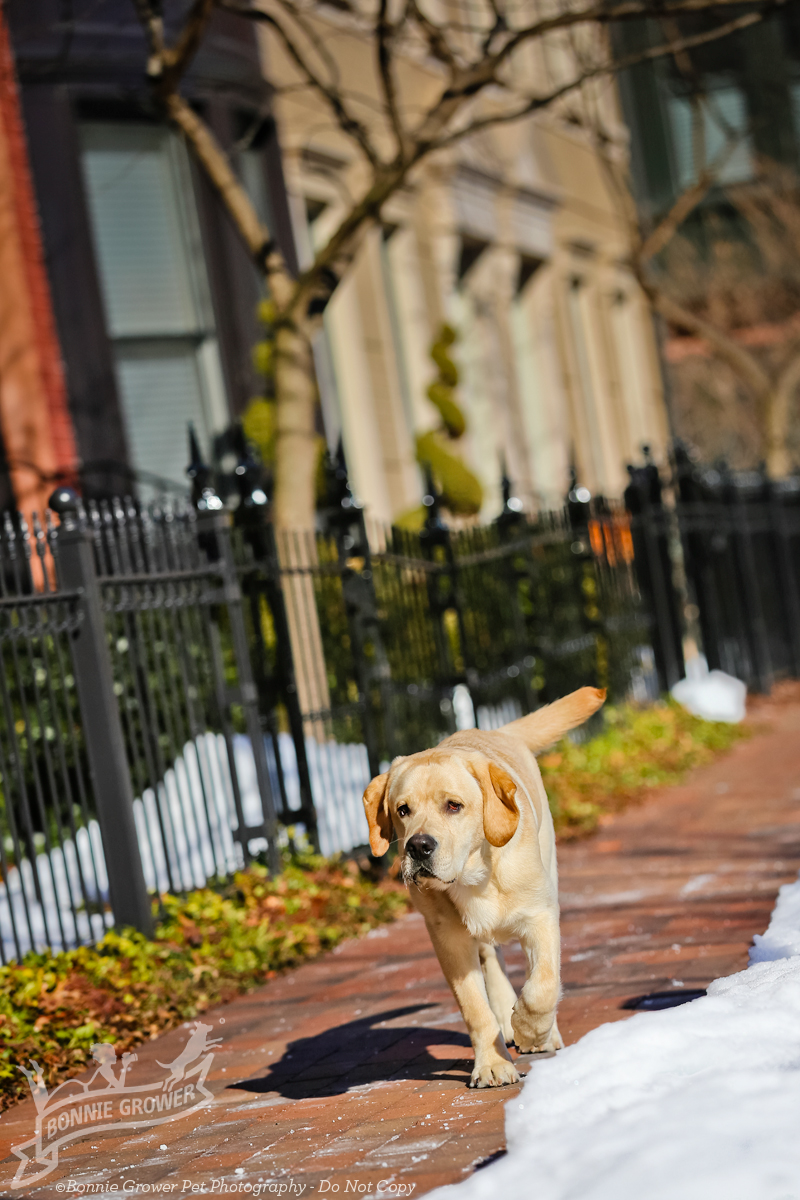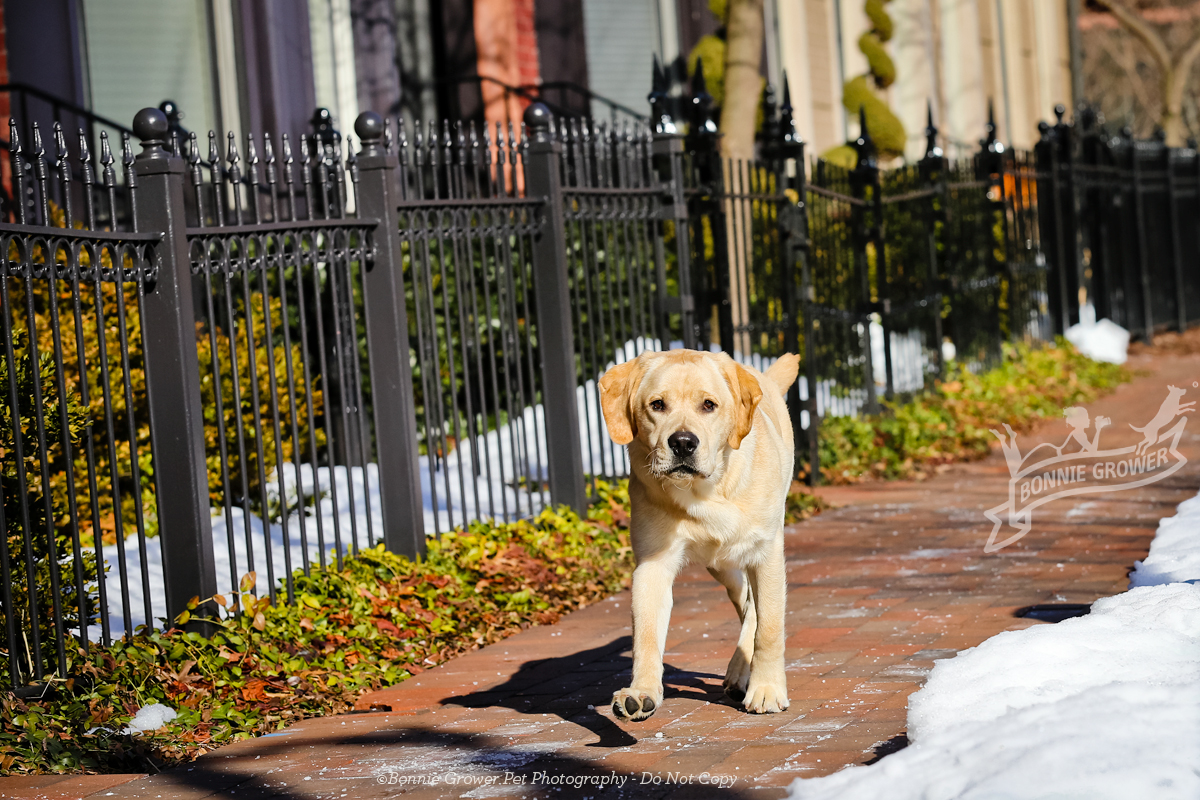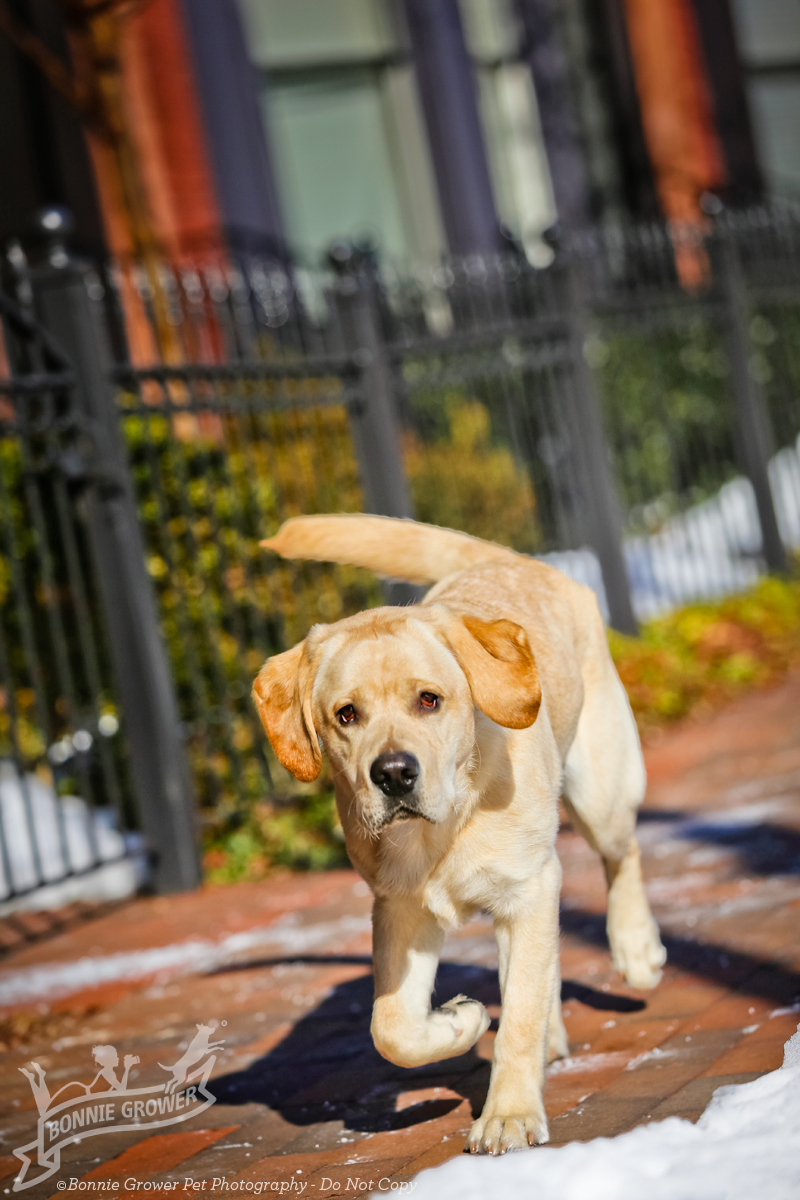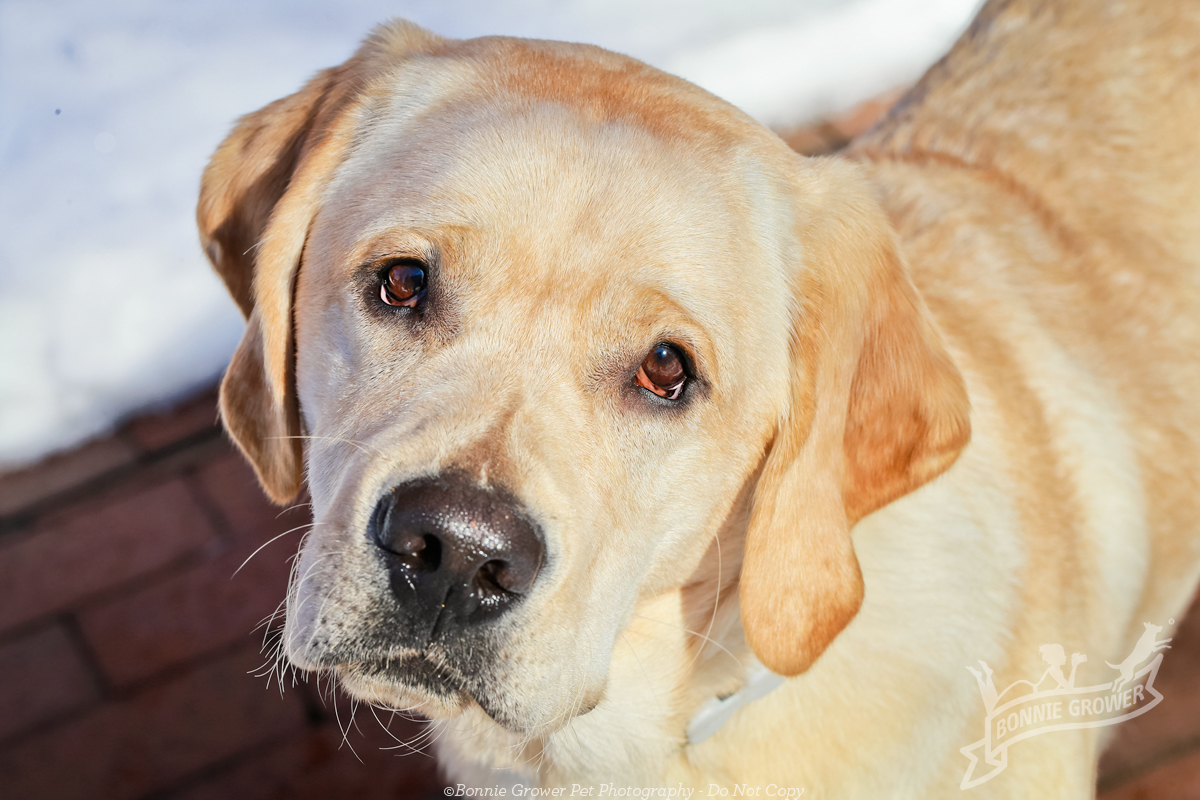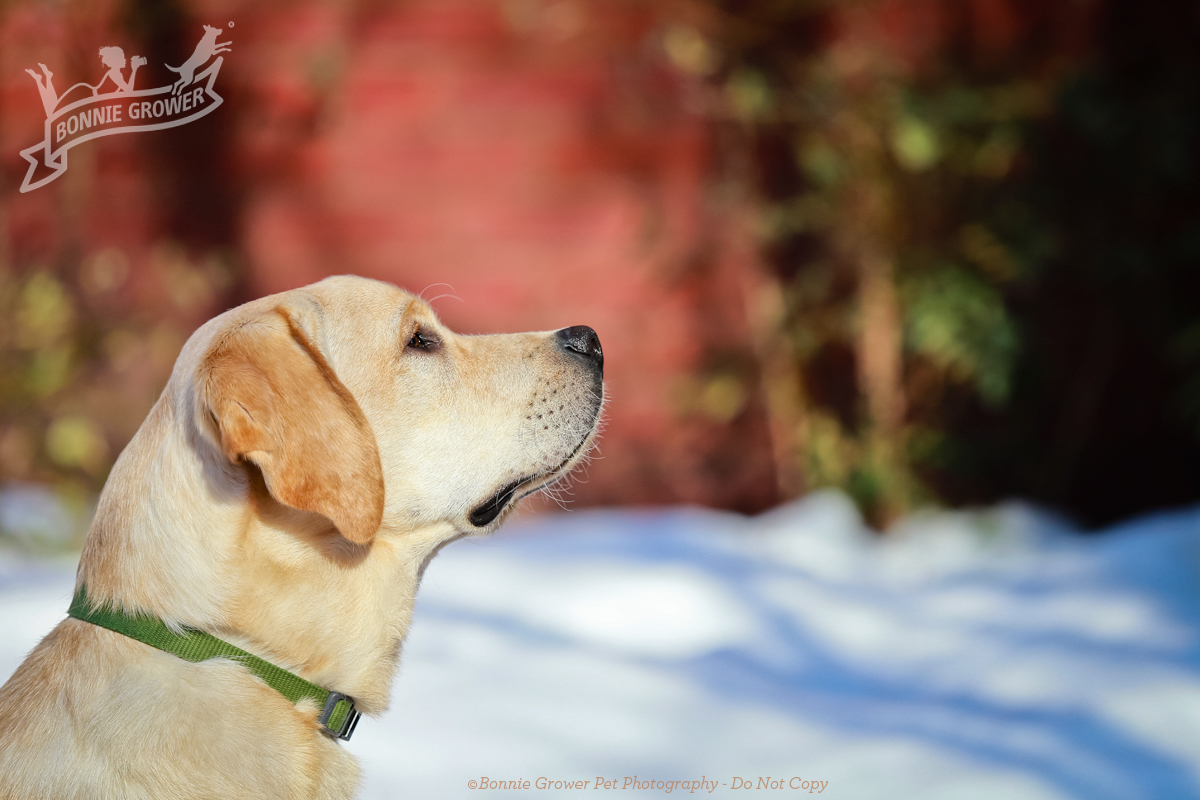 I hope you have enjoyed this installment of the Honor Litter Features and getting to know a little about Nick's wonderful family.  I'd like to especially thank Monnica and Dick for welcoming me into their home and for their service to the cause of raising Nick, and in turn, helping our Wounded Warriors recover with amazing service animals.  Please stay tuned for more Honor Litter Features to come.  In the meantime, I would love to hear your thoughts and any questions you might have in the comments below!
Love the pictures featured in this blog post?  Would you like to have beautiful images of your own pets?  Now is your chance to forever capture the personality and spirit of your own pets AND help WCC!  Please visit Bonnie Grower Pet Photography Services and contact me at hi@BonnieGrower.com to book a session where your furry family member is the star!  Mention that you are a supporter of WCC and I will donate a portion of your session fee to Warrior Canine Connection.
Until next time, have joy in your heart, a smile on your face, and a dog by your side!
Bonnie