A Day Spent in the Presence of Heroes

Welcome back!  This is the continuing story of When Honor Litter Met Honor Flight .  As a professional pet photographer, I usually spend my days in the company of dogs, cats and various other animals, but as a military spouse, I cherish time spent with my military family.  As a child, my Dad (a Navy guy himself) always encouraged me, whenever our paths crossed with a veteran, to shake their hand and thank them for their service.  He explained to me what the heroes of WWII did for us and that one day they would all be gone, so it was important to get to know then and learn about their stories before it was too late.  Today, there are around 1.2 million WWII vets left, out of 16 million.  Around 600 die every day, taking their stories and experiences with them.  I'm so thankful that my Dad instilled in me the desire to get to know the men and women of the Greatest Generation.  The stories they have shared with me are fascinating, terrifying, sometimes really funny, and almost always humbling.
"Those who fail to learn from history are doomed to repeat it."  ~ Sir Winston Churchill
If you have never had the opportunity to greet an Honor Flight, or to be a guardian of a vet for the day, I would strongly encourage you to do so!  It will have an astonishing impact and leave a life long impression on you.   ICYMI, Honor Flight is an organization that transports World War II veterans (at no cost to them) from their homes to Washington, DC, to see the World War II memorial — their memorial.  We're fortunate here in the National Capital Region to have the privilege of welcoming these veterans and their guardians at all the regional airports.  Honor Flight is an organization that I am also passionate about.  Come along with me as I share the day I spent with the Rhode Island Association of Fire Chiefs (RIAFC) Honor Flight with you!
After the planes arrive from their various origins, as they make their way to the gates, their first welcomes comes from the BWI fire department, who salutes them with a water canon arch.
As they deplane and make their way into the terminal, they are given a true hero's welcome.  Throngs of excited men, women and children line the concourse, wildly cheering and waving flags, and all eager to have the chance to shake the hands and kiss the cheeks of the veterans.  If you haven't already done so, please read When Honor Litter Met Honor Flight to see and feel the emotion of this tremendous greeting!  One of my favorite memories from another Honor Flight earlier in the year is of one veteran who was so excited by all of the kisses and hugs he was receiving from several of the ladies, that he jumped up out of his wheelchair and started dancing around and waving his hands saying "look at me!  I'm a chick magnet!"  Haha!
Eventually, the veterans, along with their guardians, will make their way out of the airport and board buses to continue their journey to see the WWII Memorial.  The logistics of the day are incredible, as the general policy of the Honor Flight organization is to require every veteran to be in a wheelchair for their safety.  These men and women are in their late 80's (and older!) and are often frail with failing health.  Each flight travels with at least one doctor, nurse, or paramedic.  After the buses are loaded and everyone is settled in, they depart the airport with a military sendoff and a full escort.  Uniformed servicemen and women line the curb in formation and salute the veterans as the buses drive by – it is a beautiful sight.  Groups of bikers, often veterans themselves, will come out to greet every Honor Flight and escort the buses to DC.  US Park Police will also join in the caravan to the memorial.
Arriving at the World War Two Memorial – Their Memorial!
Upon arrival at the memorial, the veterans were greeted by throngs of well wishers, including Senators Bob and Elizabeth Dole.  As you might know, Bob Dole is himself a WWII vet, so he tries to go to the memorial as often as possible to spend time with his fellow servicemen.
On this particular day, over 500 veterans from New York and New England came in on an Honor Flight.  Once everyone arrived at the memorial, they were escorted in by the Rhode Island Fire and Police Pipe and Drum Corps.  It was truly and amazing sight to see!   Once in the memorial, they formed a circle and performed several songs, and onlookers were clearly moved.
After photographing their performance, I had a great laugh when a couple of the vets asked me if I got any good photos under their skirts!   haha!  Glad to see they haven't lost their sense of humor!
Next up was former Secretary of State and Chairman of the Joint Chiefs of Staff, Colin Powell!  He came out to greet the veterans, gave a wonderful speech, then spent about an hour just visiting and posing for pictures.
The Commandant of the Marine Corps, Assistant Commandant of the Marine Corps, many of the Deputy Commandants of the Marine Corps, as well as many of the Rhode Island State representatives also shared in the day.  It was wonderful to see how much time and attention they paid to the veterans – and the vets loved every second of it!!
Time was spent walking around, admiring the memorial, sharing stories, and remembering a time that many tried to forget for much of their lives.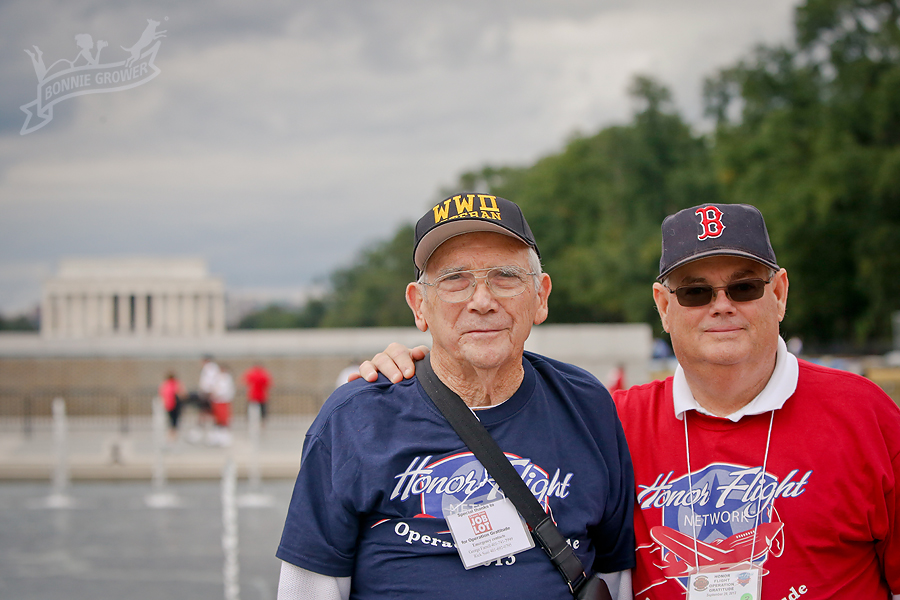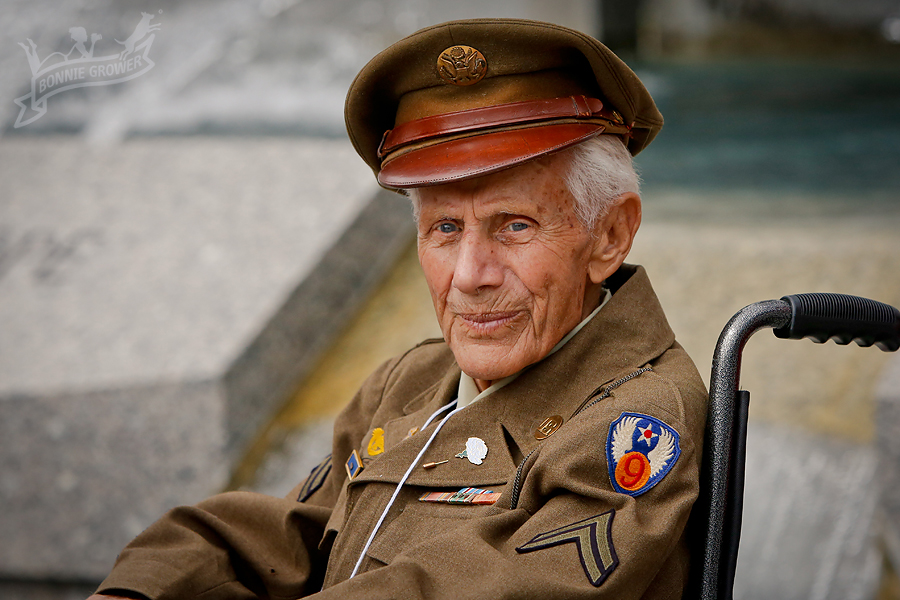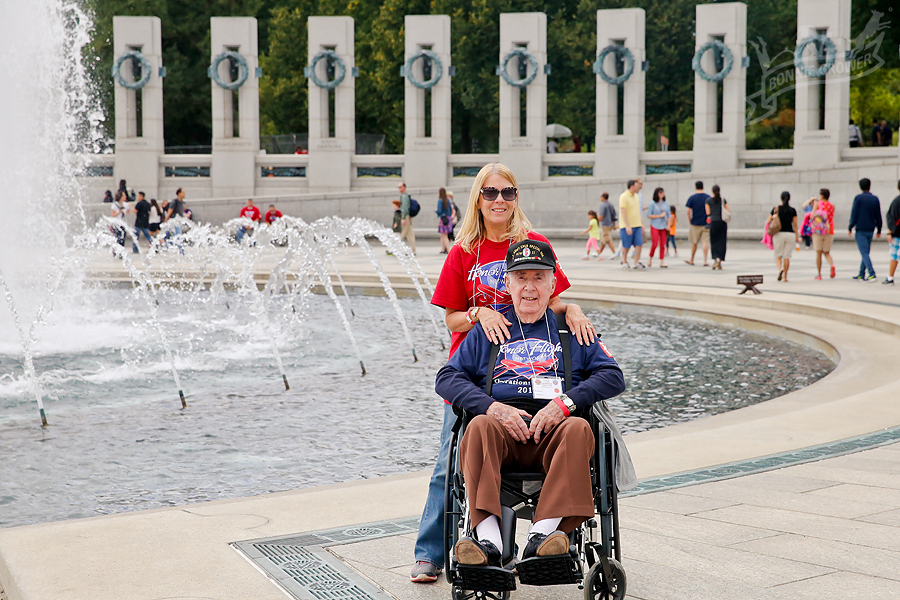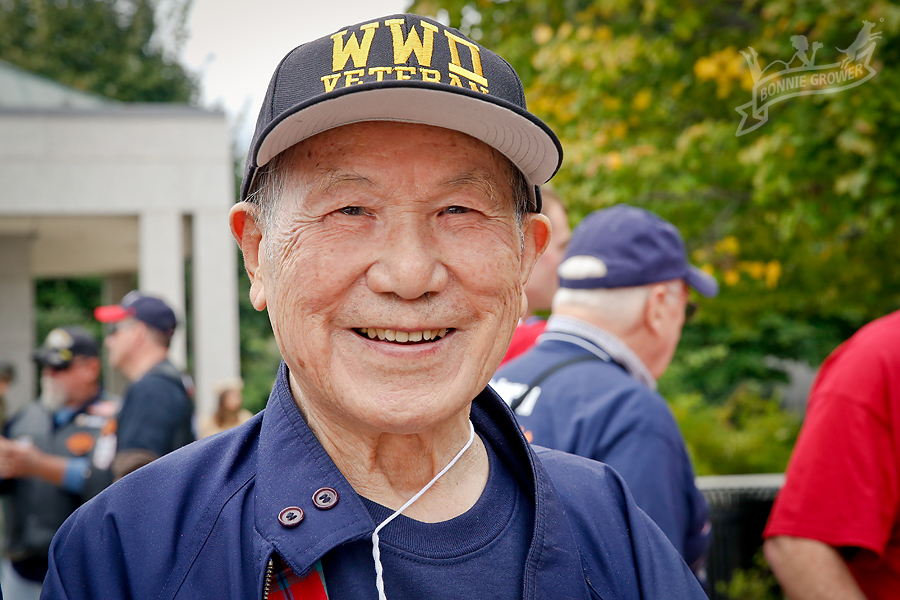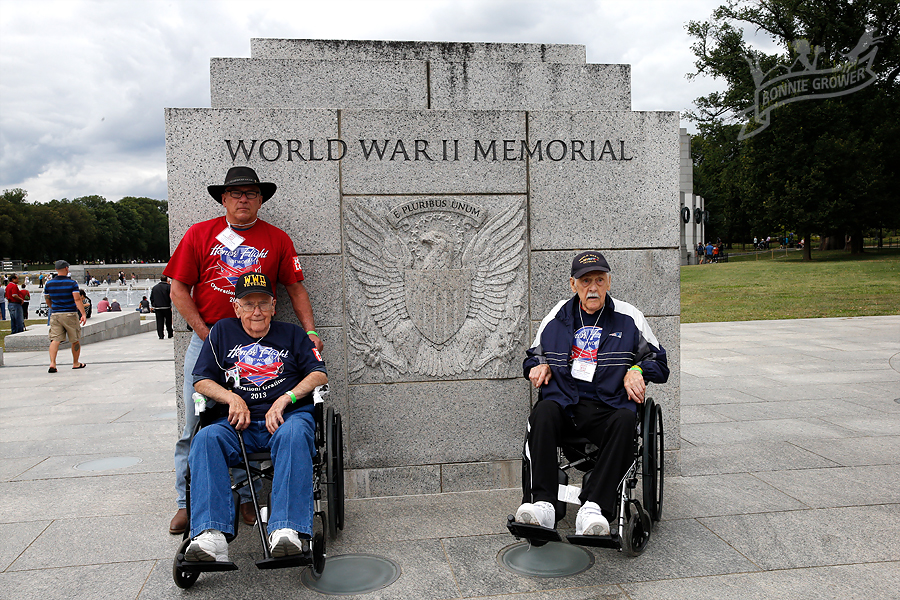 Here we mark the price of freedom
The wall of stars is usually very emotional for the veterans.  Each star represents 100 Americans who died during the war.  There are 4048 stars on the wall.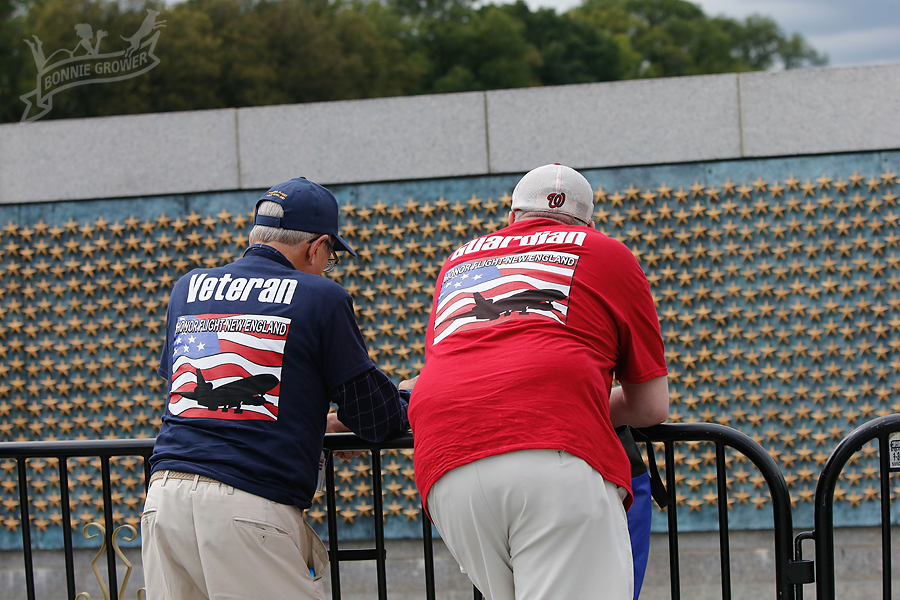 For men like Mr. Michael Gold, a 91 year old Army Air Corps Navigator, this is especially poignant.  He was shot down on only his third mission over Germany, and spent sixteen months as a German prisoner of war.  He credits his fellow prisoners with helping him survive — Mr. Gold is Jewish, and would almost certainly not have been there to share his story with us if the Germans discovered that.
Meeting one of the oldest living WWII veterans
We had the pleasure of spending the day with one of the oldest living WWII veterans – centenarian William Grimshaw.  He was a Navy Seabee (C.B. = Construction Battalions — they basically "built" their way from island to island during the Pacific campaign, making runways and bases whenever, wherever, and out of whatever they could find!).  I believe he even had a hand in constructing the runway used by the "Enola Gay" prior to her mission over Hiroshima.  Stories like this, while amazing, are common among this group of distinguished men and women.  At 100 years old, he spent the day laughing, grinning from ear to ear and telling stories about his wife.  "She is 96 years old and still cooks and cleans!"  I had to chuckle and turned to my husband and told him not to expect the same! haha! 🙂
In addition to being a very happy and humble man, William Grimshaw wasn't much of a fan of the wheelchair that he was asked to sit it.  At one point, his guardian sat in the wheelchair and told Mr Grimshaw that if he wasn't going to use the wheelchair, that he would!
Everyone poses for the group shot


The last few pictures before we depart the memorial

After leaving the WWII Memorial we head for a tour of DC.  Stops on the tour usually include Arlington National Cemetery to see the Changing of the Guards, Iwo Jima, Korea, Vietnam, Lincoln and the Air Force Memorials.   It is so humbling to be on the bus with these heroes and ask them if they would like to get off the bus to see the Iwo Jima memorial and hear the reply "no, that's okay, I was there the first time."
A huge shout out to Ocean State Job Lot.  They not only raised the money to pay for every one of these vets to come to DC, but they hosted an incredible dinner at the BWI Hilton.  Every detail was attended to, including having the famous USO Girls there to entertain.
That evening, the founder of Honor Flight, Earl Morse, said what many of us feel: "the members of the Greatest Generation are some of the most humble people you will ever meet.  They can not understand why they are given a hero's welcome, because they don't believe they are heroes.  When you talk with them about their experiences, they just shrug their shoulders and say that they didn't really do anything.  Not a single one of them did anything – so how in the heck did they win the war?"
If you really want to know how they won the war, try to get one of these vets to sit in a wheelchair when they don't want to sit in a wheelchair!  Then you will know

.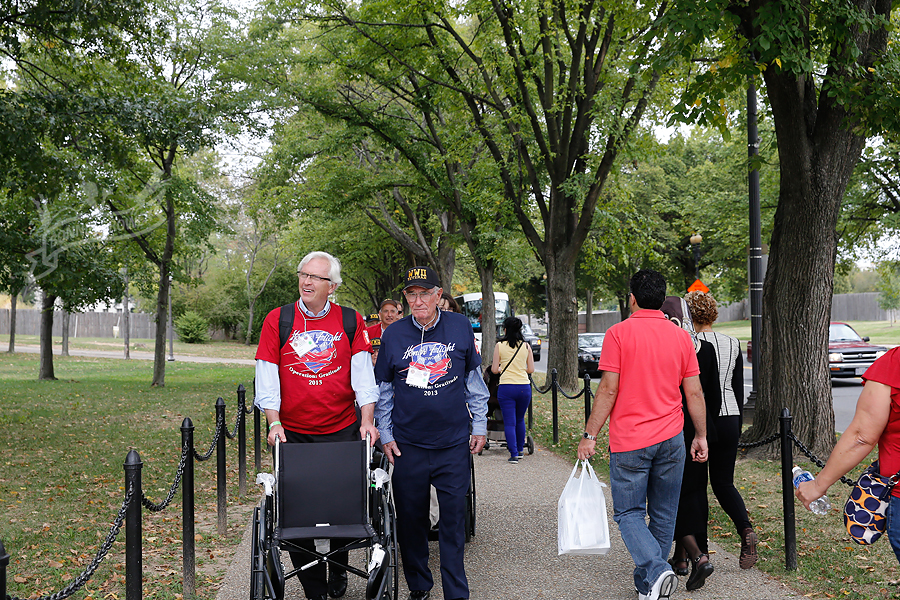 For me, the most moving part of the entire day was when they presented Colors and sang the National Anthem.  The vets were extremely tired and drained from the day, and some were in obvious discomfort, but it didn't  matter.  With their hunched backs and wobbly legs, they stood just as proud and tall as a young 20 year old would.  It was incredible moving and brought tears to my eyes  to see their trembling hand held to their forehead in a firm salute throughout the entire song.  It is a sight I will never forget.
From the bottom of my heart I would like to thank the Rhode Island Association of Fire Chiefs, and especially George Farrell, for inviting me to spend the day with them.  It was one of the best days of my life and has left a lasting impression on my heart.  Thank you!
A man who has nothing for which he is willing to fight, nothing which is more important than his own personal safety, is a miserable creature and has no chance of being free unless made and kept so by the exertions of better men than himself.
~ John Stuart Mill
What do you think?  Do you have a moving story about one of our vets?  Tell us in the comments below or head over to my facebook page!
Until next time, have joy in your heart, a smile on your face, and a dog by your side!
Bonnie
PS – For a moving video highlighting the day, watch it here — it's only five minutes, and WELL worth your time!